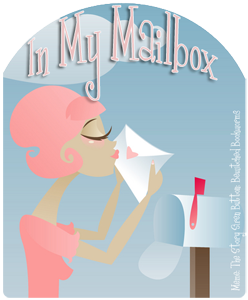 The idea is to post the books you got this week,
whether you bought them, got them as a gift,
from the library, or received them to review.
This week's blogger is cutie.
Happy Hippity Hop Day, y'all!!
Whether you celebrate the Easter holiday or not,
I hope each and everyone of you is drowning
in jelly beans and chocolate eggs.
Happiness is a basket full of candy.
Nom.Nom.Nom.
Over the last week or so, I've collected some awesome books.
Some bought. Some borrowed.
All gems in my mind.
Wanna see them?
Here we go!
The Art of Forgetting
by Camille Noe Pagan
publish date:6/9/2011
received from Dutton
by Cara Lynn Shultz
Publish date: 6/28/2011
received from Harlequin TEEN
Annnd last but definitely NOT least I bought:
I could lie and say it was for my lils,
but in truth, I've got a soft spot for sweet Ferdinand.
Tis what I know and what I've got.
Make sure to check out other participating blogs/sites!!
But before you scamper off make sure to share with us
which books you acquired this week and
THE one you have been dying to read.
Pleasy Cheesy share with us!
Until next time–
Yours forever truly,
The following two tabs change content below.
Related Posts