Yay for Fridays!!! The week's almost over and it's time for a whole love of Blog Love and Networking!
Each week there is a new question to answer, which is fun and also helps to get to know each other better. This week's question is:
Summer is coming quickly – what 2011 summer release are you are most looking forward to?
Ooh, great question! Just thinking about lying on the beach with a book in my hand makes me smile! And the book I'm most interested in reading this summer is Bad Taste In Boys by Carrie Harris.
This tale of zombies in high school meets Dr. Frankenstein just strikes me as the right kind of fun read for a summer day! What will you be reading this summer?
This is just, plain out, a FANTASTIC question!!! And I'm biting my nails on this one because some of my FAVORITE books are series!!! I mean , my very first pick is going to blow SEVEN of my ten slots, but I can't help it. For overall ability to be read and re-read countless times, the first seven slots go to the Harry Potter series. There's just so much that goes on in these books and I've re-read them countless times already. Plus they deal with hope in the face of hopelessness and if I'm trapped with only 10 books, I have the feeling I'm going to need that message more than ever so, yeah, they definitely top the list.
For my last three slots, I'll choose The Works of John Donne, Incarceron and Sapphique by Catherine Fisher.
Now you'll have to excuse me as I weep for all the books I couldn't bring!!!
Finally, we'd love to take the opportunity to welcome all the new faces and the old ones too! *waves* Glad you are here and we hope you like it here at the Bewitched Bookworms.
To get an impression about us, this was what we were up to at the Bookworms last week:
Don't forget to check out all the Easter Egg Egg-stravaganza posts! Daily entries are now closed, but you can still enter to win the grand prize by collecting each day's word! The deadline was extended while we wade through the daily winners. We'll announce all 13 winners

this Saturday

!!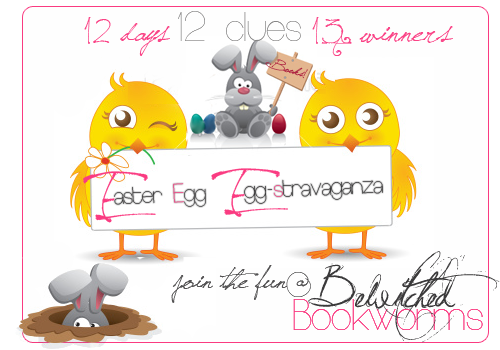 click to enter, wooot!
And don't forget!! If you like audiobooks: hop on over to our Audiobook Challenge for 2011! It's going to be great fun and a great way to enjoy books even when you can't have one in your hands. Check it out!!
The following two tabs change content below.
Related Posts