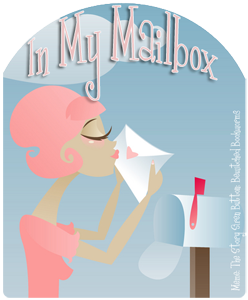 (You are so welcome to grab and use our Button, just please cheesy link back to us 😉
Weekly meme from
The Story Siren
. The idea is to post the books you got this week,whether you bought them, got them as a gift,from the library, or received them to review.
This week it's Danny. *waves*
Real life unfortunately is kicking my a** , but I had a fantastic week in terms of books.
I got some really really nice ARC's from netGalley and I'm totally excited to read those. NetGalley is plain awesome – finally awesome ARC's like the ones below are available also for people outside the US – I am sooo thankful! And of course thanks to HarperCollins for the approval!
When seventeen-year-old Ellie starts seeing reapers – monstrous creatures who devour humans and send their souls to Hell – she finds herself on the front lines of a supernatural war between archangels and the Fallen and faced with the possible destruction of her soul.

A mysterious boy named Will reveals she is the reincarnation of an ancient warrior, the only one capable of wielding swords of angelfire to fight the reapers, and he is an immortal sworn to protect her in battle. Now that Ellie's powers have been awakened, a powerful reaper called Bastian has come forward to challenge her. He has employed a fierce assassin to eliminate her – an assassin who has already killed her once. (…)
Unearthly
Release January 2011
In the beginning, there's a boy standing in the trees. . .

Clara Gardner has recently learned that she's part angel. Having angel blood run through her veins not only makes her smarter, stronger, and faster than humans (a word, she realizes, that no longer applies to her), but it means she has a purpose, something she was put on this earth to do. Figuring out what it is, though, isn't easy. (..)
Afterlife
Release March 2011
Having become what they feared most, Bianca and Lucas face a terrifying new reality. They must return to Evernight Academy, Lucas as a vampire and Bianca as a wraith. But Lucas is haunted by demons, both personal and supernatural. Bianca must help him fight the evil inside him, combat the forces determined to drive them apart—and find the power to claim her destiny at last.
Always a Witch
Release August 2011
The adventures of Tam and Gabriel continue with more time travel, Talents, spy work, and of course, the evil Knights.

Since the gripping conclusion of Once A Witch, Tamsin Greene has been haunted by her grandmother's prophecy that she will soon be forced to make a crucial decision—one so terrible that it could harm her family forever. When she discovers that her enemy, Alistair Knight, went back in time to Victorian-era New York in order to destroy her family, Tamsin is forced to follow him into the past.
Then a got a bunch of eBooks from Harlequin,
I love Harlequin,
did I said that already?
No?
I adore the people from Harlequin and of course they have
pretty good books…
Anyway, here we go:
For once, sixteen-year-old Aden Stone has everything he's ever wanted:

A home.

Friends.

The girl of his dreams.

Too bad he's going to die…Since coming to Crossroads, Oklahoma, former outcast Aden Stone has been living the good life. Never mind that one of his best friends is a werewolf, his girlfriend is a vampire princess who hungers for his blood, and he's supposed to be crowned Vampire King – while still a human! Well, kind of.
When Kenan, an incubus, finds a caged angel for sale in the Hellsgate marketplace, he sees her as a challenge. Certain that his skills in seduction will work as well on a heavenly creature as they do on mortal women, he buys Jahel, intent on having her soul as a novelty in his collection.

Knowing he must gain Jahel's trust if she is to come to his bed willingly, Kenan treats her more as his guest than as his slave. When she reveals what brought her to the mouth of Hell in the first place-retrieving the soul of a young girl she was guarding-he even offers to help her complete her mission.
Published September 2010
As LA plunges into an occult gang war, mob sorceress Domino Riley must unravel a conspiracy that reaches beyond the magic-soaked mean streets into a world of myth and legend.

MOB RULES is an urban fantasy novel of murder and magic, betrayal and redemption set in the supernatural underworld of Los Angeles.
Let me set the record straight. My name is Charlotte Silver and I'm not one of those paranormal-obsessed freaks you see on TV…no, those would be my parents, who have their own ghost-hunting reality show. And while I'm usually roped into the behind-the-scenes work, it turns out that I haven't gone unnoticed. Something happened on my parents' research trip in Charleston—and now I'm being stalked by some truly frightening other beings. Trying to fit into a new school and keeping my parents' creepy occupation a secret from my friends—and potential boyfriends—is hard enough without having angry spirits whispering in my ear. All I ever wanted was to be normal, but with ghosts of my past and present colliding, now I just want to make it out of high school alive….
Well, and of course I also went shopping and bought some books.
It's horrible –
I mean I have tons of books already on my shelf (virtual and physical)
but I'm still buying books…
I can't resist..
Of course I bought
Ghost Town
…
Published October 2010
The fragile peace between humans and vampires in Morganville is in trouble, and when Claire takes drastic action, she's put under serious pressure to re-establish the barriers that keep the town residents inside, and wipe the memories of those who leave. But working with her half-crazy vampire boss Myrnin means that things don't always turn out as planned … and as the people of Morganville begin acting strangely, Claire and her friends must solve the mystery and try to put things right. But one by one, her allies are turning on her … even the ones she trusts most.
…and I couldn't resist the hype among this book and this gorgeous cover from
Nightshade Published October 2010…


Calla Tor has always known her destiny: After graduating from the Mountain School, she'll be the mate of sexy alpha wolf Ren Laroche and fight with him, side by side, ruling their pack and guarding sacred sites for the Keepers. But when she violates her masters' laws by saving a beautiful human boy out for a hike, Calla begins to question her fate, her existence, and the very essence of the world she has known. By following her heart, she might lose everything–including her own life. Is forbidden love worth the ultimate sacrifice?
Oh and then I bought an audiobook!
Do you listen to audiobooks too?
Well, I totally forgot I much I love this, especially since I drive to work by car every morning which means, there is no time to read – so an audiobook is just perfect!!!
Elixir
Published October 2010
As the daughter of a renowned surgeon and a prominent Washington D.C. politician, Clea Raymond has felt the glare of the spotlight her entire life. But after Clea's father disappears while on a humanitarian mission, eerie, shadowy images of a strange and beautiful young man begin to appear in Clea's photos—a man she has never seen in her life.

When Clea suddenly encounters this man in person she is stunned—and feels an immediate and powerful connection. As they grow closer, they are drawn deep into the mystery behind her father's disappearance and discover the centuries-old truth behind their intense bond.

Torn by a dangerous love triangle and haunted by a powerful secret that holds their fate, together they race against time to unravel their past in order to save their future—and their lives
Honestly, I'm totally excited about those books and
I can't say about which one
I'm most excited…
I read already Ghost Town and Nightshade,
and I loved them both –
although I have to say Nightshade annoyed me a tiny bit…
I started Angelfire and it's soooosooo good
(actually I just interrupted the reading to wrap up this post…) ,
I'm in the middle of Elixir and I'm surprised how much I love it…
So yes, this was my mailbox, so tell me what's in yours???
*Pushy pops her head in*
So Danny has generously allowed me to horn in on her IMM post this week to give an enormous SQUEE over what I got in MY mailbox this week…..
The Summer King is missing; the Dark Court is bleeding; and a stranger walks the streets of Huntsdale, his presence signifying the deaths of powerful fey.

Aislinn tends the Summer Court, searching for her absent king and yearning for Seth. Torn between his new queen and his old love, Keenan works from afar to strengthen his court against the coming war. Donia longs for fiery passion even as she coolly readies the Winter Court for battle. And Seth, sworn brother of the Dark King and heir to the High Queen, is about to make a mistake that could cost his life.

Love, despair, and betrayal ignite the faery courts, and in the final conflict, some will win…and some will lose everything.

The exhilarating conclusion to Melissa Marr's New York Times bestselling Wicked Lovely series will leave readers breathless.
We were fortunate enough to get our hands on this MUCH awaited ARC
thanks to the WONDERFUL people over at Harper Collins!!!
I actually jumped around in joy when this showed up at my house!
And I have to read it quickly
because the other Bookworms are definitely waiting
for their turns to read this book.
*Pushy scurries off to get lost in a book*

The following two tabs change content below.
Related Posts