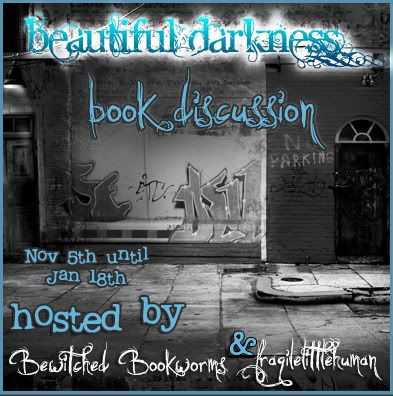 Welcome to the Beautiful Darkness Book Discussion Recap!! Thank you so much to everyone who stopped by this week's discussion post and left an answer. We were particularly excited to see that some of you are planning to read along with the discussion here. *happy dance*
If you haven't had a chance to read this week's discussion post, you can find it here. And all the information about the discussion (complete with the schedule of chapters and dates) and it's accompanying contest, is available here.
This week's discussion question was:

How did you feel re-entering the world
that Kami and Margie made?
Like us, you guys were happy to sink back into the lush world that Kami and Margie created.
Elizabeth said:
I loved how Kami and Margaret set the scene. It brought back all of the love I had for Beautiful Creatures.
And Sarah felt the same:
Finishing Beautiful Creatures, it felt like a need to reenter [their] beautiful world!
Suzie added:
I was mainly just interested in what direction the second book was going to go in.
And Nely was just happy to hear Ethan's voice again:
I love the simplicity of Ethan's voice and the descriptions of what's gone down since we were last here. I'm feeling it.
Great answers! We're glad you stopped by and commented! If you missed your chance to comment on last week's post, there's still time to answer the question and get your entry into the Beautiful Darkness Book Discussion Contest. And keep your eyes out for this week's post, coming to you on Tuesday by fellow Bookworm, Heather/Call Of Duty Widow!!

The following two tabs change content below.
Related Posts