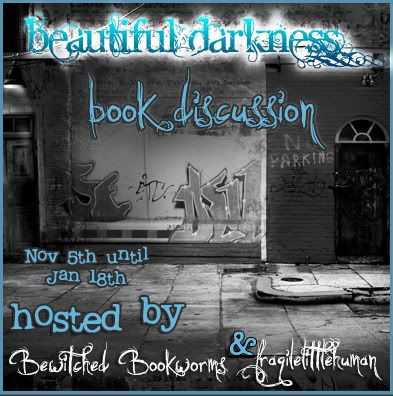 Welcome to the final Beautiful Darkness Book Discussion Recap!! Thank you so much to everyone who stopped by this week's discussion post and left an answer. We can't thank you guys enough for coming by each week to discuss this fabulous book with us!
If you haven't had a chance to read this week's discussion post by Danny, Fragile and I, you can find it here. And all the information about the discussion (complete with the schedule of chapters and dates) and it's accompanying contest, is available here.
This week's discussion questions were:
What ONE question
do you most hope to have answered
in the next Caster Chronicles Book?
and
What was your favorite scene
in Beautiful Darkness?
A two-fer to end it! Here's what you guys thought:
Erikasbuddy said:
What ONE question do you most hope to have answered in the next Caster Chronicles Book?

* I want to know the secrets behind the CASTER animals.

— Bonus Question –:

What was your favorite scene in Beautiful Darkness?

* The one scene that stuck with me is the one where Ethan and Liv are on Marian's porch before they decide to go off and hunt for Lena. For some reason that scene has stuck with me, making it my favorite.
Britta answered:
I want to know what the heck Ridley was doing!!! I was thinking about that whole scene for a really long time and this discussion just brought it all back. Arg- cliffhanger!

~Bonus Question~

mmmhhhh. I don't think I could chose….. But I did like when Ethan and Lena were lying in bed together (scandalous!). I liked how everything was finally back together. It was kind of a surreal moment because nothing has ever been easy between Ethan and Lena and that moment was just so simple.
Darkfallen said:
So what one question do i want answered??
After everything that has happened I am very interested in what is going to happen with Link and Macon. SO I guess my question is: How are Macon and Link going to handle their new transformations and where will it take them in this series?

Bonus Question…What was my fav scene?

For me this is hard to answer because this whole book stuck with me. I read both books back to back in 2 days, so at some points they kinda blend together. That being said I have to go with when Ethan has the vision of his mother and Macon at school together and Macon gives her the arclight. I have always had a soft spot for him since book 1 and I just lost it here. Seeing that he had loved at some point in his life and had to sacrifice it all because he didn't want to hurt her, well it just made me heart him even more. And I'm to proud to say that I teared up just a little.
Elizabeth answered:
I want to know how Ridley will handle Link being supernatural while she is just a normal human. I think that relationship will be interesting.

My favorite scene was when Lena and Ethan were on the beach. I loved their little moment just before Lena went too far.
AHfromGoodreads said:
What I want answered – Why is Sarafine so dark? What put her in a bad mood? Who is that motorcycle dude? Why does he influence Lena? What are his real motives?

Bonus question –
I think it was Ethan and Lena and Link at the lake. Link's is out swimming and Ethan and Lena get some time together.
MyTwilife answered:
The one question I want answered is whether Ethan and Lena will be able to be together happily forever! What can I say…I am a hopeless romantic! Plus I want some action between them! I am tired of mopey Lena…LOL

Bonus:
Hmmmm that is hard…but I guess the scene that stuck with me the most was when Macon was released from the Arclight…I was like WOAH! I was so glad he was back & it was cool knowing it was Ethan's Mom and Lena's Uncle who were helping them at this crucial time!
Thank you, so much, everyone who took the time to follow this discussion every week!!! We've loved sharing this awesome book with each and every one of you. Thank you for your answers and your humor (and for restraining yourselves when you wanted to smack the snot out of Lena!).
Winners of the discussion contest will be announced on Tuesday. Until then, we say thank you once more!

The following two tabs change content below.
Related Posts