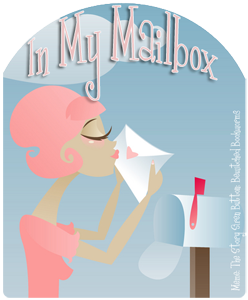 The idea is to post the books you got this week,
whether you bought them, got them as a gift,
from the library, or received them to review.
This week's blogger is cutie.
Hey howdy hey, party people!
With a heavy heart, I am here to report
that as of tomorrow the Spring Semester
shall begin for this Bookworm.
Did shellin' out the big bucks on textbooks stop me from procuring new books?
Of course not (she says with a sheepish grin).
And while there are other
definitely more impressive IMM out there
I'd have to say I'm pretty darn happy.
As you will see,
I've been slowly making my way through all
Joss Whedon's works, I decide to give Stephen King another shot
after reading his novel On Writing, I got a few "newer" releases,
and a couple of surprises in the mail from my fellow Bookworms.
Books bought:
Deadly Little Games by Laurie Faria Stolarz
Jessica's Guide to Dating on the Dark Side by Beth Fantaskey
(bargain book buy at B&N for 1.99)
Buffy the Vampire Slayer Season Eight, Volume 2: No Future for You
Buffy the Vampire Slayer Season Eight, Volume 3: Wolves at the Gate
The Iron King by Julie Kagawa
Books borrowed:
Carrie by Stephen King
Blockade Billy by Stephen King
The Lying Game by Sara Shepard
Serenity Volume One: Those Left Behind
by Joss Whedon, Brett Matthews, Will Conrad (Illustrator)




Books bestowed:
My fellow Bookworms sent me a signed copy of
crescendo (arc) by Becca Fitzpatrick, which made me squeal like a little girl!
I also received a copy of The Haunted by Jessica Verday to read and help review.
Annnnnd my copy of Behemoth by Scott Westerfeld came in the mail!
Truly, my fan girl squeals were heard 'round the world.
Tis what I know and what's I've got.
Make sure to check out other participating blogs/sites!!
But before you scamper off make sure to share with us
which books you acquired this week and
THE one you have been dying to read.
Pleasy Cheesy share with us!
Until next time–
Yours forever truly,
The following two tabs change content below.
Related Posts