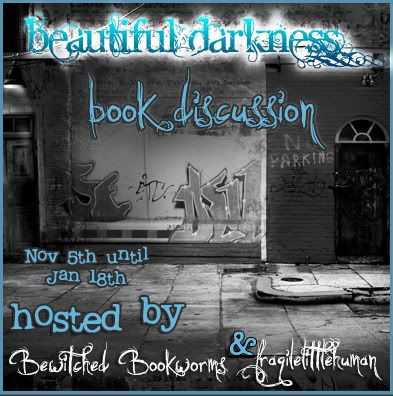 Welcome to the Beautiful Darkness Book Discussion Recap!! Thank you so much to everyone who stopped by this week's discussion post and left an answer. We are particularly excited to see that some of you are planning to read along with the discussion here. *happy dance*
If you haven't had a chance to read this week's discussion post by Uhyesplease, you can find it here. And all the information about the discussion (complete with the schedule of chapters and dates) and it's accompanying contest, is available here.
This week's discussion question was:
What was the first thing
that popped in your head when
this ginormous cat was out of the bag?
[That] Ethan's mom was Mason's love?
Talk about a shocker, eh?
Britta said:
By this time I was kind of expecting something big, so I wasn't that surprised. I mean, after all the other twists and turns I kind of got used to being shocked.
Erikasbuddy was surprised though:
I was super shocked that it was Ethan's Mom. I mean, how old is Macon? I thought he was older than what would be an acceptable relationship. Ya know… like those creepy old dudes that hang with the young hotties? But, I guess they are the same age (or close to it). I seriously didn't see that one coming.
MyTwilife was surprised too:
First of all, you are right…I could not stop reading! I was all OMG! Super shocked! I mean I always thought Ethan's Mom had a little more to do with the caster world than we thought…but NEVER guessed that she was the love of Macon's life!!
Darkfallen added:
I felt torn between emotions. I at first felt heartbreak and betrayal for Ethan and his dad. Then I was excited to finally find out what is mothers [role] was in all this because I have always had a feeling it was something. Then my mind started reeling from all the possibilities of what this could mean for Ethan and is roll in the [Caster] world, but ultimately I was soooo very happy that Macon had experienced a love of his own. As bittersweet a love it may have been but still. I've been secretly feeling sorrow for Macon and the way his life was without love and I was surprised at how happy I was to find out I was wrong. Goddess I love this book!!!!
Elizabeth agreed and brought up a topic that got everyone talking:
The first thing that popped into my head was that I knew it! I totally saw it coming. After that, I kept thinking that maybe Ethan is Macon's son! How weird would that be?
Danny had this to say about that possible twist:
But, then Ethan definitely is part Caster and oh well, it wouldn't explain why he looks exactly alike with his other ancestor, who is from his fathers side.
But Britta hit the nail on the head on why Ethan just COULD NOT be Macon's son:
I really hope he isn't! I mean, the scandal/super twist would be cool, but then he would be related to Lena and that just wouldn't work out… actually, it would be really weird… like REALLY weird…
And one of my favorite responses came from AHfromGoodreads:
Did you guys notice that Ethan put a red sticker on Lucille the cat? That struck me as totally awesome.
Great answers! We're glad you stopped by and commented! If you missed your chance to comment on last week's post, there's still time to answer the question and get your entry into the Beautiful Darkness Book Discussion Contest. And keep your eyes out for this week's post, coming to you on Tuesday by another of the Bookworms, Uhyesplease!!

The following two tabs change content below.
Related Posts