Welcome Friends! Do you have a Coffee? Or a Tea? Then sit down and chat a little bit about your week with us!
Like every week, Heather, Pushy and Danny are sharing what they read this week and what other exciting things happened in their lives!
*image from the wonderful Seth MacBeth
Heather's Week
You ever feel like a week just lasted forever? That was my week at work while waiting for my vacation to start. But I read one of the best books that I've ever read, and it's The Kiss of Deception by Mary E. Pearson. I just fell in love with this YA historical fantasy, and I couldn't put it down. I started The Redemption Key, the latest thriller by S.G. Redling. The description for this one is promising that the assassin from the first book just might prove to be an ally for the main character, and I can't wait to see how that all plays out. Both covers are very striking.
On the television front, new seasons of True Blood and Teen Wolf started this week. While True Blood was more weird than good last season, I really hope that the writers pulled it together for this final set of ten episodes. Season four of Teen Wolf got off to a very interesting start, and truth be told, I could just watch Tyler Posey and Dylan O'Brien goof around for an hour–and I'd be perfectly content. We'll see where this season is heading with that strange straight out of fanfic twist with Derek at the end of the first episode.
Pushy's Week
Much better week this week!!  Like Heather I've been preparing to be on vacation this coming week, so this past week has been flying by!  Plus lots of good things going on:  kiddos lobbying for a new pet with ADORBS pictures of puppies (not going to happen until construction on house has completed) and the Hubs and I realized….DUH, We have insurance! So the house is under repairs.  PHEW!!!!
Added into the mix has been a great week of reading!  I finished Grim (LOVED!) and Of Triton (DUH, LOVED AGAIN!) and have picked up Divided by Elsie Chapman which I'm interested in getting into (you can see my thoughts on Dualed here).  Also, because I'm heading to the land of Quidditch, I'm doing a re-read of Harry Potter (YAY!)
Also because my babysitter got me hooked on it (I know, I know, eye-roll), I've started watching Pretty Little Liars!  EPIC LOVE!!!!!!!
Danny's Week
First I have to comment on my girls week! I'm excited Heather read Kiss of Deception, I loved this book so damn much too! And … Heather, thanks for reminding me that finally True Blood begun again, I was totally out of the loop. Also, I am a big fan of Pretty Little Liar's, even though I'm a little behind on stuck on the previous season.
Alrighty, so what was up with my week.
I stared a few book and right now reading 3 books at the same time. Usually, I prefer reading on my Kindle I am just a little faster, so right now I am reading a book on my Kindle, one paperback and as usual an audiobook!
I started two books about which I am super duper excited, Lailah by Nikki Kelly, which hits exactly my nerve with Vampires and Angels. I can't help it, but just love love love Vampire themed books. Then, I also started Mortal Danger because it sounds pretty awesome and unique!
I absolutely love the cover for Mortal Danger, it's simply yet so freaking amazing and Lailah is pretty creepy, but in a good way!
Then, I loaded my audible app with City of Heavenly Fire, finally reading the last instalment of this epic series!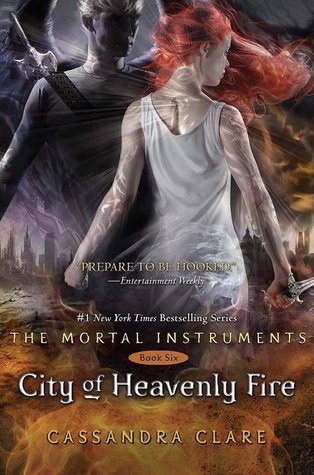 And guys, I am still only watching football. The German Team is doing really well, and we just entered the next round! Yeah!
As much as I love football, I also need some other things to watch and I will catch up on Bitten. Have you watched this series, have you read the books? I haven't read the books and I'm just middy addicted to this series, I finish it but I didn't get hooked enough to follow this series to Season 2.
So tell us about your week, what are you reading? Anything exciting? Are you also watching True Blood and Pretty Little Liars? 
The following two tabs change content below.
Lover of words and authors; absolute fan girl of books! Give me a good story, with characters I can love (and hate) and I'll follow you anywhere. Sing me a song of worlds I can dream of, and I'll listen forever.
Related Posts