It's Tuesday and we are getting closer and closer to BEA! Only 4 more weeks … OMG!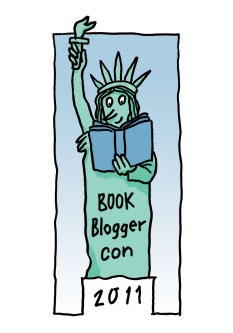 This week, we would like to talk about Book Blogger Conference, tell you how it was last year, what will change this year and what to expect. Maybe some of you still haven't decided to go there and maybe this post will clear things up a little.
First off, Pushy and I had a blast last year! It was an amazing event!  *Pushy* It really was so much more fun that even I was expecting!
BBC -2011
The morning started with a breakfast and it we just sat on a random table and got to know some new bloggers which was really nice! We got time to catch up with some bloggers we knew and it was just a nice way to start the day. There keynote speaker was Trish from Smart Bitches Trashy books and I loved her talk about blogging! Then, there were some awesome panels and the one I loved most was the Publisher and Blogger Talk – where representatives from publishing houses talked about what they expect from us and how much they love us.. Yes they do 🙂
*Pushy* All of these were great for their own reason.  One of my favorite parts of breakfast and lunch was the random networking that was going on among all the bloggers.  We met so many bloggers outside of YA, swapped stories of what worked for us and what didn't and just got the chance to feel like we're part of a bigger movement in the publishing world.  And yes, all of the talks were fantastic, but my favorite part was when the rep from Simon and Schuster came right out and said that she doesn't mind negative reviews, so long as their respectful.  It's always been my opinion that not every book gels with every reader and you can state why you didn't like a book without trashing the book or the author themselves and it was SO VALIDATING to hear this rep state the age old rule:  all publicity is good publicity!
In the afternoon was however the most awesome event: Author Speed Dating!   *Pushy* OH HOW I LOVED THIS!!!!!!!!!!!!!!!
It was fantastic, we were sitting at an awesome table with some incredible bloggers such as Kate (Vervixen) and we meet phenomenal authors! Among them were Lisa McMann, who was so awesome  I totally fell in love with her! Kiera Cass who talked about The Selection and Michelle Hodkin  and L.A. Weatherly – who was the cutest ever!
*Pushy* This was one of those moments as a blogger that was truly beyond compare.  Authors rotated in and out and not only were they supportive of what we did, they wanted to know how they could work with us, asked advice for how to best reach out to them, and just talked about how much they loved books too!  It was as if your best friends from school came by to chat…and they just happened to be super awesome authors!!!
Clearly, Pushy and me had lots of fun and we were happy we went – so of course we decided to go again this year too!!
BBC – 2012
Changes:
Moved from Friday to Monday –  In our opinion this is even better, since we all get to know each other before the craziness of BEA and when we meet in line we might see already familiar faces!  *Pushy* Also, by Friday, I was EXHAUSTED.  Monday will be better, because we'll be so fresh!
Organization: BBC now officially belongs to BEA. Before it was organized by Bloggers (Galleycat) and after they realized that they won't have time to organize it again, they sold it to BEA. I think it shows how much value Bloggers apparently have, I mean they are organizing a whole event for us! I am excited to see what changed and what they have in store for us!  *Pushy* I know there's been some push back on the sale of the event, but I say the organizers of BEA know a good thing when they see it.  If it's just one long day of marketing, no one will ever come back.  My hope is that they'll have the kind of access to really grow this event into something even better than it was in previous years.
Panels:
You can see the whole schedule here, but we would love to pick out the highlights for you:
8:45 – 9:45 am : Continental Networking Breakfast + Swag Bag Network with fellow bloggers and guest authors!
*Puhsy* Okay, hello?  You had me at pastries and swag, babe!
Some amazing authors will be there, Jenny Han & Siobhan Vivian, Ally Condie, Marie Lu, Tricia Rayburn and many more!  I'm super excited to meet maybe have a chance to chat with them, but also to see some fellow Bloggers who I haven't seen the whole year!
11:15 – 12:15 am : Blogging Today: What you need to know and what's next Listen to a diverse panel of bloggers talk about the craft of blogging in today's world and about what lies ahead.
*Pushy* Color me intrigued….
The afternoon has a very interesting Panel:
12.30 – 13.30 : Let's Talk Blogs! Networking Luncheon Make New Friends: sit at tables identified by different genres and led by a blogging author from that genre (YA, SiFi, Romance, Literary Fiction)—you choose where you want to sit with those that want to talk about the same stuff you do!
*Pushy* So the question is, branch out to something new, or make new friends in your favorite genre???
3:00 – 4:00 pm: Demystifying the Book Blogger & Publisher Relationship 
This is definitely I want to go and hear about! I'd love to hear about Publishers and how the see us and what they expect from us!
*Pushy* Who can say no to chatting up the publishers?  They bring us the books we love so much!  They're always there for us when we're desperate for a particular ARC to review.  Making that relationship stronger is a no-brainer!
So clearly, BBC is an event to network! Not only can you network with fellow bloggers, make new friends but also network with some authors and the publishers!
General Tips about Networking at BBC and BEA:
Have some business cards ready.
I printed around 100 – which was way more than I needed and was totally  fine last year.  This year we even have our mailing address printed on it.  We have been asked for our address so many time last year that we decided to put it on our cards this time.

Talk to the people around you when in line.
Obvious hu? But yes, just do this. If they are waiting in the same line like you, changes are high you maybe either know this blogger (just not her/his face) or they blog in the same genre and it would be great to check them out!  Or they might be readers and love the same books! For instance, I met the mother of the a guy how does cover designs for HarperTeen.. I mean awesome much? Also, it was the most awesome thing when someone looks at your Badge and says: Oh hey, I know your Blog! So, even though you are at BEA with you friends, don't be afraid to split up – it will be fun and you'll meet some awesome people!
Talk to the Publisher, be nice respectful and leave your card.
You have to catch the right moment to get a nice chat with the publishers. For instance in the morning when everyone runs to grab the freshly disposed books (and I mean running literally...) this is not a good time. But there are times when they just stand at their booth, this is your time to go introduce yourself and ask if you could give them your cards. Often a conversation starts from there. And be patient, you will get your time! For instance we had a super nice conversation with two girls from Penguin. This was just right after a big event at their booth and they were so nice and giving us tons of books even though we didn't even ask. It was just nice chatting with them. So don't push yourself at them, there will be the perfect time and opening 🙂
So that's it for today! I hope we gave a nice overview of BBC and how to Network – which basically comes natural right?
Anything we missed? Anything you want to ask or add? Shoot! 
and… are you going meaning, are we going to see each other and Network at BBC :))? 
Much Love,
Other BEA2U posts and upcoming posts:
BBC and Networking at BEA (today)
Scheduling your visit to BEA
Authors, Signings and Events
Answering YOUR Questions!
The following two tabs change content below.
Related Posts