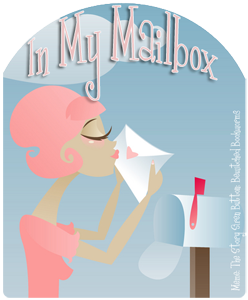 The idea is to post the books you got this week,
whether you bought them, got them as a gift,
from the library, or received them to review.
This week's blogger is cutie.
Morning. Evening. And Afternoon to y'all.
This week I've been a tad under the weather,
so having some good reads show up on my door step
helped to brighten my week.
Without further ado,
I shall share them with you!
Books Bought:
I saw many a folks talking about the following book
on Goodreads, and I just HAD to buy meself a copy.
by Ransom Riggs
Look for a review of this awesome book this week on the blog!!
NetGalley books:
The loveliness that is Danny had a looooot
to do with my following NetGalley haul.
She's got some kick-arse taste.
But y'all already know that!
A Beautiful Dark by Jocelyn Davies
Publish date: 9/27/11
received from HarperTeen
Ashes by Ilsa J Bick
Publish date: 9/11
received from EgmontUSA
Ashes by K.J. Wignall
Publish date: 9/27/11
received from EgmontUSA
Books Borrowed:
Have I ever mentioned how much I *heart* the library?
Here are a few books I picked up this week.
And last, but far from least-
Books that make me squee with delight!!
Crossed (sequel to Matched) by Ally Condie
Publish date: 1/1/11
Publisher: Dutton
*received from publisher*
Need I say more?
Tis what I know and what I've got.
Make sure to check out other participating blogs/sites!!
But before you scamper off make sure to share with us
which books you acquired this week and
THE one you have been dying to read.
Pleasy Cheesy share with us!
Until next time–
Yours forever truly,
The following two tabs change content below.
Related Posts