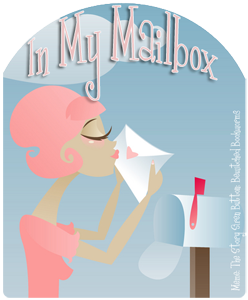 (You are so welcome to grab and use our Button, just please link back to us –you can find ALL Buttons we have and are happy to share with you here. 😉
Weekly meme from
The Story Siren
. The idea is to post the books you got this week,whether you bought them, got them as a gift, from the library, or received them to review.
*Waves hello* Happy Mother's Day to all of you super moms out there. My (Heather) mailbox was jam-packed this week, all of them were preorders and new releases that I'm totally stoked to dive into.
First up, I got the next installment in the Chicagoland Vampires series by Chloe Neill, Hard Bitten. I couldn't wait to jump back into Merit's version of Chicago so I started reading it Wednesday morning. This Chicago is just as corrupt and devious as the real Chicago. It's nice to see that adding in vampires and shapeshifters doesn't make the city any different.
Two copies of Dead Reckoning, the next Sookie Stackhouse novel by Charlaine Harris got to my house with a day to spare. Pushy and I went to the author's book signing in Downers Grove at the historic Tivoli Theater on Thursday. Why two copies you ask? My BFF Heather's birthday (I know, it gets confusing since I'm Heather, Pushy's Heather, and my BFF is also a Heather) is in a few weeks and I always get her the latest Sookie book as a present. This year's is just extra special since Charlaine very graciously personalized it for me. And of course, she was a little confused when she saw that both of my books were to be made out to Heather. Once I explained that they weren't both me and one copy was going to be on its way to Texas, she said that I was a great friend to send Heather a signed copy.
The final book that made its way to my house this past week was the first fiction outing by one of my all-time favorite authors, Jen Lancaster. If You Were Here looks to be full of her trademark snark and unusual circumstances, so I'm very eager to dive into this one.
So that's my mailbox, did any of you get these books? What's in your mailbox?
The following two tabs change content below.
Related Posts