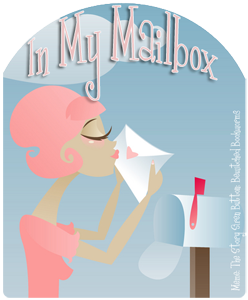 Weekly meme from
The Story Siren
. The idea is to post the books you got this week,whether you bought them, got them as a gift,from the library, or received them to review.
It's my turn again and I bought one book and received one book for review this week.
Description from Goodreads:

Third and final book in the Trylle Trilogy.

With a war looming on the horizon, Wendy's fate seems sealed.

But everything she sacrificed might be in vain if she can't save the ones she loves.

Her whole life has been leading up to this, and it's all coming to an end.
I devoured this book as soon as I received it in my email. Read my spoiler free review here. I really recommend this series to people. Who knew Trolls could be so interesting?
Next up, I totally forgot about preordering debut author Beth Revis' Across the Universe until it showed up on my Kindle on Tuesday. As a side note, I am a little irritated that I paid over a dollar more for the Kindle edition ($10.99) than the paper copy ($9.71) was selling for on Amazon. You can't tell me the Kindle edition should cost more! I still think that publishers need to take a hint from the dvd movie industry and offer a hard copy/ebook combo like they do with Blu Ray/DVD combos. There are a ton of books that I've preordered the hard copy since I want to complete my book collection, but I'd rather read a 500 page book on the Kindle instead of lugging that huge book around with me. End rant. Plus, lending is disabled on the Kindle copy. If I would have spent less money, I could have a hardcover book in my hands that I could have passed to a few of my friends at work that are interested in this book.
Description from Goodreads:

Seventeen-year-old Amy joins her parents as frozen cargo aboard the vast spaceship Godspeed and expects to awaken on a new planet, three hundred years in the future. Never could she have known that her frozen slumber would come to an end fifty years too soon and that she would be thrust into the brave new world of a spaceship that lives by its own rules.

Amy quickly realizes that her awakening was no mere computer malfunction. Someone-one of the few thousand inhabitants of the spaceship-tried to kill her. And if Amy doesn't do something soon, her parents will be next.

Now Amy must race to unlock Godspeed's hidden secrets. But out of her list of murder suspects, there's only one who matters: Elder, the future leader of the ship and the love she could never have seen coming.
Anyway, I usually don't read YA Scifi bought had heard nothing but good things about this book, so I had preordered it and devoured it in two days. Look for my review to be posted tomorrow. It is such a frexing good book. Read the book and you'll know what I mean.
What books did you receive in your mailbox?

The following two tabs change content below.
Related Posts