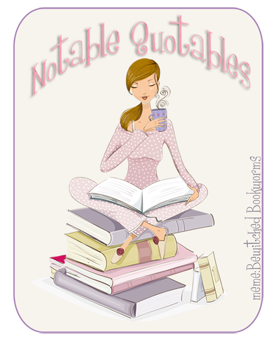 Welcome to Notable Quotables! Not sure exactly what you're supposed to do to be a part of the meme? Check out our first post
here
.
Notable Quotables is a meme we started here at Bewitched Bookworms to share some of our favorite quotes in the books we've been reading. We think it is a fun way to find out a bit more about each other as book bloggers and to share everything from great snarky zingers to sigh inducing avowals of love.
Anyone can participate in this meme and it really can be any quote from any book, no matter the genre. So get creative and share something fun!
Here's our quote for the week:
"Saying good-bye is basically an invitation not to see a person again. It's making it okay for that to be the last conversation you have. So if you don't say it–if you leave the conversation open–it means you'll have to see them again." – Roger
Book: Amy & Roger's Epic Detour
Author: Morgan Matson
Character: Roger
Reasons why I, cutie, picked this quote:
Truth be told,
I'm feelin' a bit nostalgic and slightly sappy-emo,
which got me thinking about what a wonderful, uplifting story
Ms. Matson's debut novel was and how much I enjoyed this quote.
And that's what I've got.
If you'd like to share your Notable Quotable post, please be sure to sign the link list below!
For example:
Name: Bewitched Bookworms
URL: http://www.bewitchedbookworms.com/notable-quotables-10.html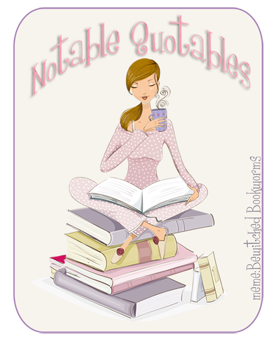 Feel free to use our button if you like
(you can just grab the code above).
Or if you prefer, make your own!
Have a wonderful Monday!
The following two tabs change content below.
Related Posts