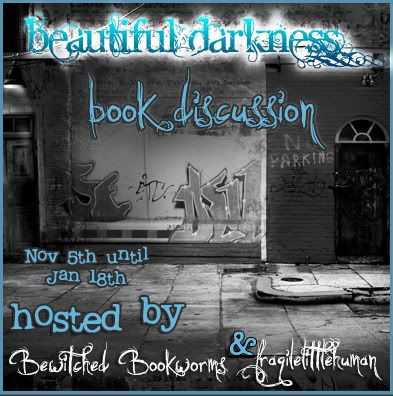 Welcome to the Beautiful Darkness Book Discussion Recap!! Thank you so much to everyone who stopped by this week's discussion post and left an answer. We are particularly excited to see that some of you decided to read along with the discussion here. *happy dance*
If you haven't had a chance to read this week's discussion post by Cutie, you can find it here. And all the information about the discussion (complete with the schedule of chapters and dates) and it's accompanying contest, is available here.
This week's discussion question was:
Where do we go from here?
What are your predictions in reference to all this madness
(broken moon, broken Order, Good/Bad Lena)
and what roles will Lena and Ethan play in the coming novels?
Wow! Big question! Here's what you all thought.
Britta said:
I kind of hope Lena stays in a in-between state. I kind of what her to go dark and be all bad-ass, yet at the same time I want her to stay with Ethan. I think what I really want is for Lena to stay how she always has been: light, but dark when she gets mad. Making her go light would be too cookie-cutter YA. I need something different. I also sort of hope that Ethan turns out to be some kind of super powerful caster that no one knew about. Probability of that happening, probably not much… But still, a girl can dream, right?
Erikasbuddy agreed:
So, what I think will happen is Lena is gonna go all Jean Grey on it all and KABOOM!! I think this book was leading up to that. Ethan is gonna be all Cyclops and whine a bit while singing "Please Don't Go Girl" (oh yeah!! I'll NKTOB that up for ya!!) ,….. but then he's gonna go all WOLVERINE and try to get his girl and take her no matter how much she needs an xanex.

After that… I think that Ridley will become a key player and since she's batter for the baddies and now is batting for the goodies she's gonna sell her soul just to play on Team Bibbidy Bobbidy Boo.

As for the Caster theory that Britta has… I totally agree. I've been thinking that since Book 1 and I'm pretty sure we're gonna see his powers in Book 3 (even if they try to milk it and make it an evil clifffy so we really don't find out till Book 4… but that's how people make money… you can't give us everything in one sitting)

I hope we find out more about BOO and the cat. I think they are Casters stuck in animal bodies. I think we'll find out more about them in the upcoming book

And then… after it's all said and done…. after Ethan wins the girl… and the credits are ready to roll… well, Ethan gets bit by the bad boy bug and we start all over again.

Ya think?
Darkfallen had some interesting theories too:
I kinda think that no matter what Lena is always going to be teetering on the fence between light and dark but I have a theory…

I too have been longing for Ethan to end up being a caster or anything that would allow him to be with Lena. I also think that s pretty much impossible but we all know that a good author can make a liar out of us. (here's hoping for that 😉 ) I have since drawn a different possibility……

Ok so what if Ethan willingly become a Incubus? I mean as an incubus he would be able to completely be with Lena, right? I dunno just saying. And if that happens then you have created more drama for Lena because even if Ethan goes all "Macon Like"and lives off dreams, which I believe he would i mean he is our little sweetheart, ultimately he would be considered dark. Therefore if Lena chooses light Ethan would die and if she chooses Dark then Macon would die now that he is a light caster.

So where does that leave us???? Oh yeah Lena will be left to choose between the life of her love Ethan and Macon all over again. It's a viscous cycle I tell you!!

That's just my twisted predictions!
Whoa!!!! Good answers and FANTASTIC theories!!! We're glad you stopped by and commented! If you missed your chance to comment on last week's post, there's still time to answer the question and get your entry into the Beautiful Darkness Book Discussion Contest. And keep your eyes out for this week's post, our final discussion post, coming to you on Tuesday by our the three of us, Pushy, Danny and Fragile!!

The following two tabs change content below.
Related Posts