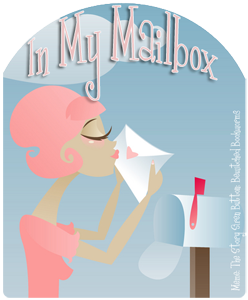 (You are so welcome to grab and use our Button,
just please cheesy link back to us 😉
Weekly meme from The Story Siren. The idea is to post the books you got this week,whether you bought them, got them as a gift,from the library, or received them to review.
This week it's Pushy. *waves*
I'm not normally part of the IMM group,
but when I got the following package
delivered to my house this week,
I asked Heather if I could steal her slot
and share my bounty.
As you might recall,
Danny went to the Frankfurt Book Fair
and had an amazing time!!
Well, this lucky fox was the recipient of a majority of those books because
Danny has some plans up her sleeves for future give-aways!!!!!
So, so exciting!!!!!!
UPDATE:
I apologize for not listing
the books I received from Danny out.
Bad, Pushy!!!
They are as follows:
I Am Number Four, Love Mine, Crave,
The Iron King, The Iron Daughter, Mob Rules,
Intertwined, Sins of the Heart,
Mistwood, Vacations from Hell,
The Fallen, Rot and Ruin, Thirst,
Mockingjay, Before I Fall,
Shiver, Linger,
The Summoning, The Awakening, The Reckoning
But that's not all that came to my house this week!
I also was lucky enough, again through Danny's beneficent office, to receive
All her life, Evalle has been straddling the line between human and demon. Curious about her origins, but content to live in the shadows, she finds that anonymity threatened by escalating conflicts between species. Accused of a savage murder, she's forced center stage in what seems like the beginning of an Atlanta apocalypse. Before long though, her personal problems will submerge as she learns startling facts about a hoard of supernatural terrorists.
AND…..
How on earth could I have forgotten to include
the AMAZING package that arrived earlier???

Ooohh…what could it be?
This was such perfect timing too because I had just picked up Jessica Verday's first book in this series, The Hollow.
When Abbey's best friend, Kristen, vanishes at the bridge near Sleepy Hollow Cemetery, everyone else is all too quick to accept that Kristen is dead and rumors fly that her death was no accident. Abbey goes through the motions of mourning her best friend, but privately, she refuses to believe that Kristen is really gone. Then she meets Caspian, the gorgeous and mysterious boy who shows up out of nowhere at Kristen's funeral, and keeps reappearing in Abbey's life. Caspian clearly has secrets of his own, but he's the only person who makes Abbey feel normal again…but also special.

Just when Abbey starts to feel that she might survive all this, she learns a secret that makes her question everything she thought she knew about her best friend. How could Kristen have kept silent about so much? And could this secret have led to her death? As Abbey struggles to understand Kristen's betrayal, she uncovers a frightening truth that nearly unravels her—one that will challenge her emerging love for Caspian, as well as her own sanity.
An impossible truth. An impossible love.

After a summer spent reclaiming her sanity and trying to forget the boy she fell in love with—the boy who must not exist, cannot exist, because she knows that he is dead—Abbey returns to Sleepy Hollow, ready to leave the ghosts of her past behind. She throws herself into her schoolwork, her perfume-making, and her friendship with Ben, her cute and funny lab partner, who just might be her ticket to getting over Caspian once and for all.

But Abbey can never get over Caspian, and Caspian has no choice but to return to her side, for Caspian is a Shade, and Abbey is his destiny. They are tied not only to each other, but also to the town of Sleepy Hollow, and to the famous legend that binds their fates—a legend whose dark truths they are only beginning to guess…
Needless to say, I'm SO set for my reading for a while.
That's what was in my mailbox this week. What was in yours?
Now go and get lost…in a book!
The following two tabs change content below.
Related Posts