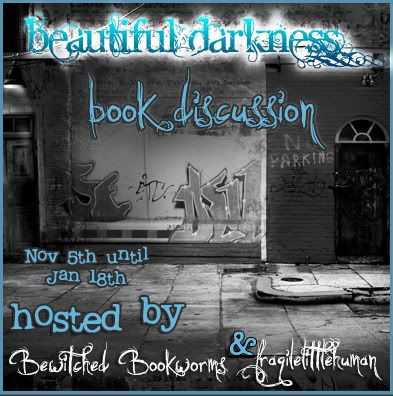 Welcome to the Beautiful Darkness Book Discussion Recap!! Thank you so much to everyone who stopped by this week's discussion post and left an answer. We are particularly excited to see that some of you are planning to read along with the discussion here. *happy dance*
If you haven't had a chance to read this week's discussion post, you can find it here. And all the information about the discussion (complete with the schedule of chapters and dates) and it's accompanying contest, is available here.
This week's discussion question was:

What do you think the mysterious man
who offered his condolences to Lena
at Macon's grave is?
Everyone was intrigued by this mysterious guy!
Some of you clearly know and are being SO GOOD by not saying.
Britta said:
I'm gonna have to go with BOTH. or neither. What I mean is that I feel that he has more powers than a normal caster and different powers of an incubus, but similar… He got me VERY frustrated over the course of the novel… I will not spoil, but I'm just sayin'.
Suzie was equally cryptic:
At this early point in the book, I didn't know what to think of the mysterious sounds-sorta-cute- young man at the funeral. But we know a few things. He can walk into the light and his eyes are green.
Others hadn't found out yet, but were giving it their best guess.
Elizabeth said:
I think he is a Caster, but I honestly have no idea. I want to know more about him! I guess I will just have to wait to find out more.
Isalys was also unsure even though she'd read further along than we've covered so far:
On the mystery man, I'm about half-way through the novel so I know his name and some of his abilities, but *no spoilers* I promise! As to what he is, I honestly don't know yet. I thought he might have been a Caster but then again, something's off. I think I'm going to go with Door # 3 – some sort of freaky hybrid.
Great answers! We're glad you stopped by and commented! If you missed your chance to comment on last week's post, there's still time to answer the question and get your entry into the Beautiful Darkness Book Discussion Contest. And keep your eyes out for this week's post, coming to you on Tuesday by one of our favorite bloggers, Susie from Apples N' Feathers!!

The following two tabs change content below.
Related Posts