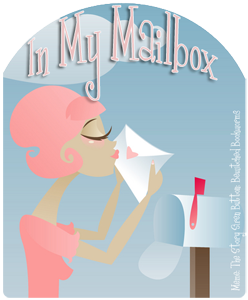 Weekly meme from
The Story Siren
.
Heather here again, stuffed to the gills with yummy holiday food and tons of gift cards for new books. Before I run out to buy some new reads, I have a few weeks worth of books to talk about today.
I'll just start with my biggest squee worthy acquisition in forever.
…I got an ARC of The Last Little Blue Envelope by Maureen Johnson in the mail. Squeeeeeeeeeeeeeeeeeeeeeeeee. My fellow bloggers know I'm not the squeeing type, but this book made me do a little dance in my living room when I opened the envelope. I had posted a "Waiting On" Wednesday about this book a few weeks ago, and my wishes were heard and granted big time! My review will go up closer to the publication date in April 2011, but I will tell you this – this book exceeded all of my expectations. And Maureen Johnson succeeded in making me want to read a third book in this series. So hopefully she gets cracking on that one. I'll just wait here impatiently.
While I began to wait for a third Little Blue Envelope book, I bought two books as Kindle Editions from Amazon after Susie for Apples N' Feathers recommended them to me while we chatted on Twitter one day last week. I bought Switched and Torn by indie author Amanda Hocking.
Switched(Goodreads, Amazon): (Description from Goodreads)
When Wendy Everly was six-years-old, her mother was convinced she was a monster
and tried to kill her. It isn't until eleven years later that Wendy finds out
her mother might've been telling the truth.

With the help of Finn
Holmes, Wendy finds herself in a world she never knew existed – and it's one
she's not sure if she wants to be a part of.
Torn(Goodreads, Amazon): (Description from Goodreads)
Torn the second installment of the Trylle Trilogy…

Wendy thought she finally understood who she was and what she wanted, but everything changes when the rival Vittra come after her.

She's caught between two worlds, torn between love and duty, and she must decide what life she is meant to lead.
I devoured both of these books in three days and I absolutely cannot wait for the third book, Ascended. Thanks Susie for the rec, they were marvelously different and an entertaining read. I'll put up my reviews sometime in the next couple of weeks.
Finally, I received a copy of Love Me To Death (Goodreads, Amazon) by Allison Brennan to review for an upcoming TLC Blog Tour stop on January 3, 2011. I've been more into the thrillers and mysteries lately, and this book is right up my alley.
You've seen my squeeworthy mailbox, what has shown up in yours?

The following two tabs change content below.
Related Posts