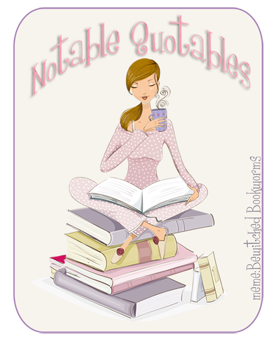 Welcome to Notable Quotables! Not sure exactly what you're supposed to do to be a part of the meme? Check out our first post
here
.
Notable Quotables is a meme we started here at Bewitched Bookworms to share some of our favorite quotes in the books we've been reading. We think it is a fun way to find out a bit more about each other as book bloggers and to share everything from great snarky zingers to sigh inducing avowals of love.
Anyone can participate in this meme and it really can be any quote from any book, no matter the genre. So get creative and share something fun!
Here's our quote for the week:
Every New Yorker's personal annoyance scale is best pictured as a cell phone commercial. The semipermeable bars of varying colors and heights extend up from people's heads as they move along the sidewalk. One person finds an open-air cigar smoker more irritating than a skill-less subway performer. Another considers the person who mistakes a subway pole for a full-body pillow during rush hour exponentially worse than a taxicab keeping its overhead lights aglow despite being occupied. One person knows that frozen-yogurt chains are the devil's handiwork and will penetrate the ground levels of civilization as we know it, softening our brains into the consistency of same, like hazelnut-flavored soylent green. Another just likes low-fat dairy. You begin to wonder if all of these infractions are actually detailed in a warning pamphlet you were meant to see when you moved here. It probably had pictures of people in solid-color clothing, like those on airplance safety cards. It was slid under your front door and accidentally discarded with the take-out menus. Now you are forced to learn the rulse on a case-by-case basis. — Pages 79-80 of How Did You Get This Number by Sloane Crosley
Sloane Crosley has a unique way of summing up life in a big city. While she lives in New York City, I visit downtown Chicago five days a week for work, enduring a train commute filled with hygeine impaired, overly artificially scented, and just plain rude riders. Working downtown and living in the suburbs, I often feel like an outsider. But I certainly don't flinch, not even when I witnessed a drunk homeless man vomit copious amounts of cheap liquor while walking down the sidewalk, not breaking stride once. Or the time a very obviously needy man asked for the rest of my nachos from Qdoba when I was finished with them. Hey, if he was actually going to eat after a very obviosly pregnant woman, more power to him. Or the five times I've sat next to someone who decided that chewing tobacco and spitting it into a clear bottle was a good idea while you're confined on the train. Or the guy I elbowed in the ribs last week because he actually leaned his head on my should when he fell asleep on the train. This author sums up my feelings about navigating the big city in a humorous, ironic way. Which is exactly how I sum up my experiences.
If you'd like to share your Notable Quotable post, please be sure to sign the link list below!
For example:
Name: Bewitched Bookworms
URL: http://www.bewitchedbookworms.com/notable-quotables-10.html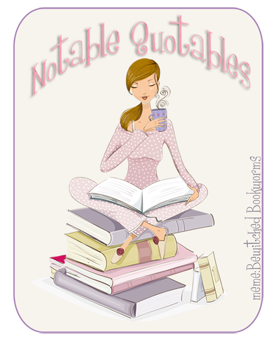 Feel free to use our button if you like
(you can just grab the code above).
Or if you prefer, make your own!
Have a wonderful Saturday!

The following two tabs change content below.
Related Posts