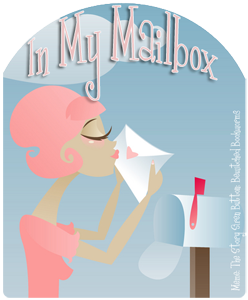 The idea is to post the books you got this week,
whether you bought them, got them as a gift,
from the library, or received them to review.
This week's blogger is cutie.
Well hey there my fellow readers!
How you doin'?
This week's IMM has a new addition for me.
eBooks
I'll spare you all the list of free eBooks that I procured.
They included works by
Ella Wheeler Wilcox, Leo Tolstoy, Herman Melville,
Dante Alighieri, Anne Bronte, and more.
Man these things are amazing!
Not to mention, the awesomeness that is NetGalley.
But I'm getting ahead of myself!
Amazingly, this time around I didn't buy a single book
and yet I still got some fanfreakingtastic ones!
All for free, I might add.
*pats self on back*
When you've got four kidlets getting
things for free is almost as good as getting a babysitter
so you can go grocery shopping alone.
Oh yeah… that's how I roll.
Moooooving along.
Let's talk some books, shall we?
Books borrowed:
Me and the library are like this…
errr… the this being me crossing my fingers.
I think you get the picture.
Five in fact.
A cutie's corner post?
Maybe.
Milo: Sticky Notes and Brain Freeze
by Alan Silberberg
From Aladdin
Lulu and the Brontosaurus
by Judith Viorst
From Aladdin
SkateFate
by Juan Felipe Herrera
From HarperCollins
Shadowcry
by Jenna Burtenshaw
From HarperCollins
Nightspell
by Leah Cypess
From HarperCollins
Netgalley books:
Um…
NetGalley is a wonderland of
welllll… wonderment.
Seriously, it's my new best friend.
Here's what I got:
Bumped by Megan McCafferty
publish date: April 26, 2011 (me day o' birthday)
received from HarperCollins

Starcrossed by Josephine Angelini
publish date:May 31, 2001
received from HarperCollins

The Last Little Blue Envelope by Maureen Johnson
publish date: April 26, 2011 (me day o' birthday)
received from HarperCollins
The Goddess Test by Aimée Carter
publish date: April 19, 2011
received from Harlequin
Ideal Man by Julie Garwood
(note: I went ballistic when I found out they
approved me for this one. I ADORE Julie Garwood!)
publish date: August 9, 2011
received from Penguin Group (USA)
For Pearl:
Pearl (me new Nook) and I had a little chat.
She said she was concerned that she might get
nicked and scratched up.
Hearing her compelling arguments,
we went out directly and got her some new digs:
This would be the cover,
because you care. No.
Truly you do.
This would be a sucky pic of the inside.
The man in the picture would be Joseph Conrad.
He wrote Heart of Darkness
which is a wonderfully written story,
that frankly made me sofa king depressed.
Again. You care. Truly you do.
And now…
the scripted ending:
Tis what I know and what's I've got.
Make sure to check out other participating blogs/sites!!
But before you scamper off make sure to share with us
which books you acquired this week and
THE one you have been dying to read.
Pleasy Cheesy share with us!
Until next time–
Yours forever truly,
The following two tabs change content below.
Related Posts