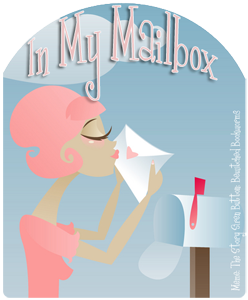 (You are so welcome to grab and use our Button, just please link back to us –
Weekly meme from
The Story Siren
. The idea is to post the books you got this week,whether you bought them, got them as a gift, from the library, or received them to review.
Hi there! *Heather waves from the cool safety of the air conditioning* I got a couple of preorders from two long running series that I really love and a few books from Scholastic this week. (All links and descriptions are from Goodreads)
.
First up, I preordered the tenth book in
MaryJanice Davidson's
Betsy, Queen of the Vampire Series,
Undead and Undermined.
All-new in the New York Times bestselling drop-dead funny series.
Vampire Queen Betsy Taylor thought she couldn't die. So what's she doing in the morgue? It could have something to do with a time- traveling trip she made, and a foe with a wicked agenda that could finally be the real death of Betsy-if she's not careful.
The nineth book in this series was pretty dark at the end and everything was pretty shaken up after the time traveling, so I hope this one builds on that momentum.
The second book that I preordered was
One Dog Night
by
David Rosenfelt
. This is book nine in the Andy Carpenter series.
For six years Noah Galloway has lived with a horrible secret and the fear that his rebuilt life could be shattered at any moment. Now his dread has become a certainty, and he has been arrested for the arson murder of twenty-six people.

What he needs now is defense lawyer Andy Carpenter, who most definitely is not in the market for a new client. So Noah plays his hole card: a shared love for Andy's golden retriever, Tara, and the knowledge of what her life was like before Andy rescued her. Because Andy wasn't her first owner—Noah rescued Tara first, and when he wasn't able to care for her any longer, he did everything in his power to make sure that she was placed in the right home: Andy's.

With that knowledge, Andy has little choice but to take Noah on, and he soon learns that the long-ago event that may destroy Noah's life is only the beginning of an ongoing conspiracy that grows more deadly by the day. Andy will have to pull out all of his tricks to get to the bottom of this cold case turned white hot in the latest in David Rosenfelt's popular mystery series.
Not one of David Rosenfelt's book in this series featuring defense attorney Andy Carpenter has been lackluster, and I definitely can't wait to check out his latest installment. And the covers always feature the cutest, most magnificent dogs.
At the Bookworms headquarters, we got a few ARCs from Scholastic. First up, I picked Pretty Bad Things by C.J. Skuse.

"Wonder Twins" on the run–and running amok–in Vegas. Road Trip!
Paisley and Beau are boldface names again. Last time, paparazzi called them the "Wonder Twins," two kids found alone but alive in the woods of exotic New Jersey. Three days after their mom's death — and before their dad's criminal misdeeds.
Flash-forward to now: Their so-called lives? Suck out loud: Hating on their cougarized, Botoxic grandma, they're totally clueless about the location of ex-con Daddy. Till they discover a stash of old letters. That's when they decide to jack the Pontiac and hit the road. Holding up donut shops in Sin City might seem extreme, but if they can just get their pretty bad faces back on TV — or TMZ — they might wrap up their whole gaga saga with an Oprah-worthy reunion already!
The second ARC I picked was
The Rites & Wrongs of Janice Wills
by
Joanna Pearson
.
For anyone who's ever survived a rite of passage or performed a mating dance at Prom . . .

The Japanese hold a Mogi ceremony for young women coming of age. Latina teenagers get quinceaneras. And Janice Wills of Melva, NC … has to compete in the Miss Livermush pageant.

Janice loves anthropology–the study of human cultures–and her observations help her identify useful rules in the chaotic world of high school. For instance: Dancing is an effective mating ritual–but only if you're good at it; Hot Theatre Guys will never speak to Unremarkable Smart Girls like Janice and her best friend, Margo; and a Beautiful Rich Girl will always win Melva's annual Miss Livermush pageant.

But when a Hot Theatre Guy named Jimmy Denton takes an interest in Janice, all her scientific certainties explode. For the first time, she has to be part of the culture that she's always observed; and all the charts in the world can't prove how tough–and how sweet–real participation and a real romance can be.

Funny, biting, and full of wisdom, this marks the debut of a writer to watch.
That's my mailbox for the last few weeks. What's been in your mailbox? Happy reading!
The following two tabs change content below.
I'm a PhD chemist who loves sarcasm, music, and books-paranormal, mystery, thriller, suspense, horror, and romance. Most of my free time is spent at the martial arts studio these days--whether practicing Combat Hapkido or reading books while watching my son's Taekwondo classes, or even working up a sweat with Kickboxing for fun.
Goodreads
Related Posts