Oh, yes! Oh, yes!!! Dear reader!
One of our favorite authors, J.L. Bryan, has stopped by today!

As we mentioned back in January,
Jeff has been on tour in support of his
super-awesome, wicked scary book,
The Haunted E-Book.
You can read our review here
(where Pushy comes off as a wimp
and Heather is oh-so-coolly impressed).
But we know what you really want
is the latest hilarious installment
of Jeff's blog tour posts!
So, without further ado, we'll turn this post over to Mr. Bryan!
After talking with people about ghosts throughout the Haunted E-book Tour, I've picked up on a thing or two. One of them is that nobody seems to want to be haunted, or even to encounter ghosts at all. With that in mind, the Bewitched Bookworms and I are pleased to bring you this latest article from Ladies' Haunted Home Journal…
Ghost- Proofing Your Home – Do's & Don'ts
Are you haunted by concerns that your home may have a ghost? Worried about chains and moans and such in the attic? This simple checklist of do's and don'ts will help keep your home free of paranormal pests!
WHEN SHOPPING FOR A HOME:
DO your research. Find out if there has ever been a burial mound, graveyard, prison, insane asylum, Chuck E. Cheese's or other major source of potential horror on the site of your house. Forewarned is foreavoided!
DON'T buy a house where there has been a murder, murder-suicide or torture-murder-suicide. These kinds of events are like flypaper for ghosts—the ghosts stick and pile up in an ugly fashion, with their ghostly legs wriggling helplessly in the air. Try to find a house with happy memories. Huge mysterious bloodstains, as well as chalk outlines of bodies in the garage or basement, should raise red flags.
SOME STEPS FOR PREVENTION
DO nail an Amish hex sign to the front of your house, hang dreamcatchers in your larger windows, and sprinkle a little salt and holy water at your thresholds. Hang a NO SOLICITORS OR SPIRITS sign by your front door to make your position clear. This may have some effect on keeping away the ghosts of door-to-door salesmen. The only thing shadier is a live to door-to-door salesman, in this day and age. I mean, who does that?
DON'T rent your basement out to the neighborhood Satanic cult, no matter what kind of lease agreement they're offering. Blood sacrifice and demon summoning are a definite no-no if you want your home ghost-free.
WHEN YOU HAVE A GHOST
Sounds like somebody ignored the earlier steps.
DO have a psychic or parapsychologist make contact with the ghosts in your home and encourage them to go into the light. We don't know what the light is, but ghosts seem to vanish once they go into it, so it must be nice in there.
DON'T ask the ghost how you can make their stay more comfortable—this sends the wrong message entirely. If the ghost asks to possess your body, give a firm "no." They may say they just want to eat one more bowl of ice cream or watch one more A-Team rerun before they pass on, but this is likely a ruse. They may go on a messy, bloody killing spree while in your body, and then who's left with the big dry cleaning bill? Hint: Not the ghost.
If you follow these simple steps, they may have some effect on keeping your home ghost-free!
However, further steps can be taken to ghost-proof your home. In the comments below, you might share your helpful hints about ghost-proofing.
Commenting on this post within seven days enters you to win the Haunted E-book Tour Grand Prizes, including The Haunted Library, a Kindle 3 with WiFi, and a Kindle DX (one of those big fancy ones!).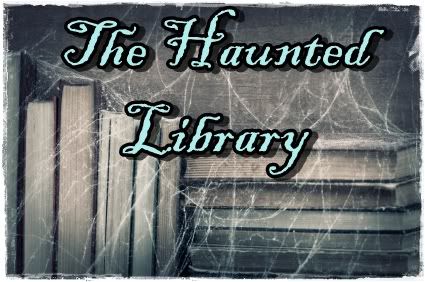 Your comment also enters you to win a
***SPECIAL GIVEAWAY***
Which is a pair of paperbacks: The Haunted E-book and Jenny Pox. This is the first ever giveaway of a Jenny Pox paperback with the beautiful new cover by Phatpuppy Art! I'm happy to be able to offer this for the first time at Bewitched Bookworms, the blog where I am considered (very minor) royalty.
The paperback giveaway will follow the Bewitched Bookworms' usual giveaway rules, whatever they are.
Heather and Pushy pop their heads in for the fine print:
US/Canada only. Leave your email address in the comments to be entered.
Thanks for following the blog tour! And thanks to the Bewitched Bookworms for hosting the blog tour today! Especially Heather and Pushy, who assure me they would still like my books even if my mom stopped bribing them with cookies. But that's just what my mom would tell them to say, isn't it?
Thank you so much for stopping by, Jeff!!!

We do adore you and your books,
but let's face it… the cookies don't hurt! *wink*
The following two tabs change content below.
Related Posts