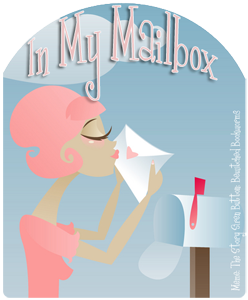 The idea is to post the books you got this week,
whether you bought them, got them as a gift,
from the library, or received them to review.
This week's blogger is cutie.
And let me just say, I am stoked to be posting on
10/10/10.
Little things like this just tickle me pink.
Alright, now that I got that out of the way….


Ready. Steady. Let's talk some books!


1. Books I got from B&N
This week was allll about the bargin books.
Bargain books kick some major patudy, by the by.
I also received two books in the mail I've been
dying to get my hands on (one got lost in the mail for
a week, but it's home safe and sound now.
Thank the book gods above!).
books in the pic:
Keeping the Moon by Sarah Dessen ($1.99)
If I Stay by Gayle Forman ($1.99)
Paper Towns by John Green ($2.99)
Peeps by Scott Westerfeld ($1.99)
Abundance of Katherines by John Green ($1.99)
Torment by Lauren Kate (lost in the mail for a week…)
Behemoth by Scott Westerfeld (my WoW last week!)
Personal Demons by Lisa Desrochers
The book I couldn't resist:
Danny loved it so much, and I just had to buy it.
Check out her awesome review of the novel
here
.
(It was our 100th review!!!)
2. Books I got from the Library
Truly the place is my refuge.
1. You are not permitted to talk loudly there.
2. You aren't allowed to run around.
3. They give you things for free.
4. As long as you behave, they won't kick you out.
5. Um.. did I mention how quiet it is there?
book procured from the biblioteca:
The Madman of Venice by Sophie Masson
The ones I'm most excited about:
Link to B&N.
Description:
This wasn't the way it was supposed to go.

You're just a typical fifteen-year-old sophomore, an average guy named Kyle Chase. This can't be happening to you. But then, how do you explain all the blood? How do you explain how you got here in the first place?

There had to have been signs, had to have been some clues it was coming. Did you miss them, or ignore them? Maybe if you can figure out where it all went wrong, you can still make it right. Or is it already too late? Think fast, Kyle. Time's running out. How did this happen?

You is the riveting story of fifteen-year-old Kyle and the small choices he does and doesn't make that lead to his own destruction.

In his stunning young-adult debut, Charles Benoit mixes riveting tension with an insightful—and unsettling—portrait of an ordinary teen in a tale that is taut, powerful, and shattering.
Link to B&N
Description:
Mackie Doyle is not one of us. Though he lives in the small town of Gentry, he comes from a world of tunnels and black murky water, a world of living dead girls ruled by a little tattooed princess. He is a Replacement- left in the crib of a human baby sixteen years ago. Now, because of fatal allergies to iron, blood, and consecrated ground, Mackie is fighting to survive in the human world.

Mackie would give anything to live among us, to practice on his bass or spend time with his crush, Tate. But when TateÕs baby sister goes missing, Mackie is drawn irrevocably into the underworld of Gentry, known as Mayhem. He must face the dark creatures of the Slag Heaps and find his rightful place, in our world, or theirs.

Edward Scissorhands meets The Catcher in the Rye in this wildly imaginative and frighteningly beautiful horror novel about an unusual boy and his search for a place to belong.
And I'm spent.
Make sure to check out other participating blogs/sites!!
But before you scamper off make sure to share with us
which books you acquired this week and
THE One you have been DYING to read.
Pleasey Cheesy share with us!
Happy Reading, friends!!!
Until next time–
Yours truly,
The fine print: If you love our Buttons go ahead and grab them, but please make sure to link back to us, your friendly neighborhood Bookworms. Tis all we ask. (Easy peasie lemon squeezie, no? *hugs*)
The following two tabs change content below.
Related Posts