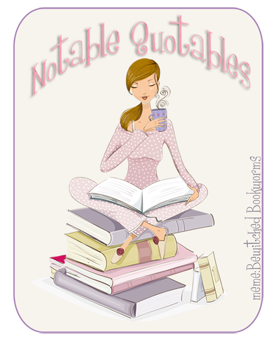 Welcome to Notable Quotables! Not sure exactly what you're supposed to do to be a part of the meme? Check out our first post
here
.
Notable Quotables is a meme we started here at Bewitched Bookworms to share some of our favorite quotes in the books we've been reading. We think it is a fun way to find out a bit more about each other as book bloggers and to share everything from great snarky zingers to sigh inducing avowals of love.
Anyone can participate in this meme and it really can be any quote from any book, no matter the genre. So get creative and share something fun!
Here's our quote for the week:
Welcome to the wonderful world of jealousy he thought. For the price of admission, you get a splitting headache, a nearly irresistible urge to commit murder, and an inferiority complex. Yipee. – Wrath
I chose this quote from the first book in the Black Dagger Brotherhood series, Dark Lover, by JR Ward. This quote shows something that I really love about these books. These big, strong, tough males who have never had such feelings, slowly start to be awakened by their chosen female. They often fight these feelings and they are often very stubborn, sometimes funny, but the results are always very steamy and sexy. If you'd like to find out more about this series, check out my first "Heather Finally Reads" post featuring these books.
If you'd like to share your Notable Quotable post, please be sure to sign the link list below!
For example:
Name: Bewitched Bookworms
URL: http://www.bewitchedbookworms.com/notable-quotables-10.html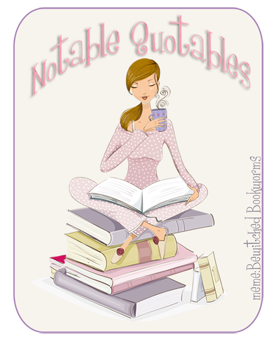 Feel free to use our button if you like
(you can just grab the code above).
Or if you prefer, make your own!
Have a wonderful Saturday!

The following two tabs change content below.
Related Posts