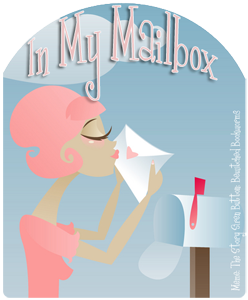 (You are so welcome to grab and use our Button,
just please cheesy link back to us 😉
Weekly meme from
The Story Siren
.
The idea is to post the books you got this week,
whether you bought them, got them as a gift,from the library,
or received them to review.
Pushy here *waves*
Danny's at her parents' house and
didn't get a chance to take a picture of her
book haul this week, so she let me
horn my way in
and ..
life was good in the Foxy household this week!
Here's what I got:
Desires of the Dead

by Kimberley Derting
Publication date: February 15th by HarperTeen
Sent by the amazing people at HarperTeen!
Amazon
goodreads
This is the much awaited sequel to
The Body Finder
(Cutie's review can be found
here
). Cutie got her copy last week but this little Fox is planning to take this copy to Kimberly Derting's signing next month!!!
by Courtney Allison Moultron
Publication date: February 15th by HarperTeen
Again from the awesome people
from HarperTeen!!
Danny
reviewed this book
last month and
you may have heard her squeeing because
she absolutely adore it!!!
And did I mention that Ms. Moultron is going to be at the same signing as Ms. Derting?
*Pushy dances her Foxy dance*
Amazon
goodreads
Past Continuous
by Tony Bayliss
Publication date: October 1st, 2010
by Sparkling Books Ltd.
Won by Danny from
The Slowest Bookworm
by Rachel Ward
Publication date: March 1st in the US
June 7th, 2010 in the UK
by The Chicken House
The awesomesauce folks at
Big Honcho Media
sent us a copy of this book because
they're
our fairy book mothers
super awesome media consultants!!
I reviewed the first book in this series,
Numbers
, last month
and to say that I adored it would be an understatement.
In fact, I had debated whether or not to bootleg the
UK version to get read it early. But the folks at Big Honcho
must have heard me, because they sent me this riveting book
to review! *Bless their wonderous hearts*
Amazon
goodreads
Dead of Winter

by Robert J. Duperre
Publication date: December 20th, 2010
I got the first book in this series, The Fall, a few months ago
but it got lost in my Kindle until the author checked in with me
a few weeks ago.
My review of The Fall will go up next week,
but let me just say this….
I bought the sequel, Dead of Winter, when I was about 10% done
with The Fall. The Fall was SO FREAKING AWESOME!!
And as scary as it was, I can't wait to immerse myself in Mr. Duperre's world again!
Amazon
goodreads
Publication date: March 1st in the US
October 1, 2009

This is the book I bought as my
foray into Steampunk
.
Darkfallen, who's offered to read it with me
already finished it and sent me her review
but I'm looking forward to starting this
this week!
Amazon
goodreads
So, pretty awesome week!!!
Hope you're mail box has treated you equally as well!!
Happy Sunday!
The following two tabs change content below.
Related Posts