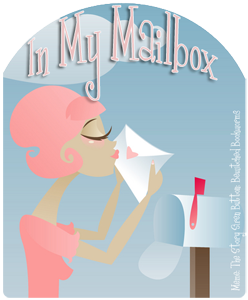 The idea is to post the books you got this week,
whether you bought them, got them as a gift,
from the library, or received them to review.
This week's blogger is cutie.
It's Sunday here on Bewitched!
And that means it is time to share some books
we bookworms have received!
Fun times will be had.
Ohs and ahs may be involved.
And you can bet your bottom dollar
that you already know how this post is gonna end.
(Note to self: Come up with a different sign off.)
Ya'll ready to talk books?
Then let's do this thing!
Books borrowed:
I'm trying to cut back on my library addiction
and start reading the books I've been hoarding…
It's a hard habit to break when such wonderment
keeps being given away for free.
Ya know what I mean?
Mistwood by Leah Cypess
Delirium by Lauren Olive
Netgalley books:
I got some great ebooks from the good peeps over at NetGalley.
Yep. It's just that simple.
Queen of the Dead
by Stacey Kade
publish date: June 7th 2011
received from Disney Hyperion
Hereafter by Tara Hudson
Publish date: June 7th, 2011
received from Harper Collins
Die For Me by Amy Plum
Publish date: May 10th 2011
received from Harper Collins
Where She Went by Gayle Forman
Publish date: April 5th, 2011
received from Penguin Young Readers Group
I didn't buy a single book yet again.
I'm strangely proud of myself.
*pats self on back for being responsible*
And now…
the scripted ending:
Tis what I know and what's I've got.
Make sure to check out other participating blogs/sites!!
But before you scamper off make sure to share with us
which books you acquired this week and
THE one you have been dying to read.
Pleasy Cheesy share with us!
Until next time–
Yours forever truly,
The following two tabs change content below.
Related Posts