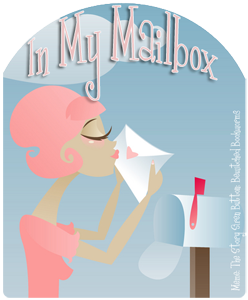 (You are so welcome to grab and use our Button, just please link back to us –
Weekly meme from
The Story Siren
. The idea is to post the books you got this week,whether you bought them, got them as a gift, from the library, or received them to review.
I have a few books to share this week, so I'll just jump right in, like diving into a cool pool on a hot summer day. (All links and descriptions are from Goodreads)
.
"Every single lifetime, I'll choose you. Just as you have chosen me. Forever."

Luce would die for Daniel. And she has. Over and over again. Throughout time, Luce and Daniel have found each other, only to be painfully torn apart: Luce dead, Daniel left broken and alone. But perhaps it doesn't need to be that way. . . .

Luce is certain that something—or someone—in a past life can help her in her present one. So she begins the most important journey of this lifetime . . . going back eternities to witness firsthand her romances with Daniel . . . and finally unlock the key to making their love last.

Cam and the legions of angels and Outcasts are desperate to catch Luce, but none are as frantic as Daniel. He chases Luce through their shared pasts, terrified of what might happen if she rewrites history. Because their romance for the ages could go up in flames . . . forever.
I forgot that I had preordered this one and picked up a signed copy at BEA last month, so I'll probably just throw this in the Bookworms pile of books to giveaway.
'A fun cast of quirky character and smokin'-hot sexual tension… a stunning combination' Tate Hallaway Times are hard for newly minted vampire Merit. Ever since shapeshifters announced their presence to the world, humans have been rallying against supernaturals – and they're camping outside Cadogan House with protest signs that could turn to pitchforks at any moment. Behind its doors, things between Merit and her Master, green-eyed heartbreaker Ethan Sullivan are… tense, to say the least. But they have to work together when the mayor of Chicago calls Merit and Ethan to a clandestine meeting: there's been a violent vampire attack which has left three women missing. The mayor's message is simple: get your House in order. Or else. Merit needs to get to the bottom of this crime, but it's not easy when she can't tell who's on her side. So she goes outside Cadogan House, secretly calling in a favour from someone who's tall, dark, and part of an underground vamp group which might be able to shed some light on the attack. It's not long before Merit finds herself in the dark, heady heart of Chicago's supernatural society – which seems to be full of vampires ready to fulfill the human's worst fears. She's about to learn that you can't be a vampire without getting a little blood on your hands…
In Close Your Eyes, the author of the bestselling How to Be Lost spins another mesmerizing tale of buried family secrets.

For most of her life, Lauren Mahdian has been certain of two things: that her mother is dead, and that her father is a murderer.

Before the horrific tragedy, Lauren led a sheltered life in a wealthy corner of America, in a town outside Manhattan on the banks of Long Island Sound, a haven of luxurious homes, manicured lawns, and seemingly perfect families. Here Lauren and her older brother, Alex, thought they were safe.

But one morning, six-year-old Lauren and eight-year-old Alex awoke after a night spent in their tree house to discover their mother's body and their beloved father arrested for the murder.

Years later, Lauren is surrounded by uncertainty. Her one constant is Alex, always her protector, still trying to understand the unraveling of his idyllic childhood. But Lauren feels even more alone when Alex reveals that he's been in contact over the years with their imprisoned father—and that he believes he and his sister have yet to learn the full story of their mother's death.

Then Alex disappears.

As Lauren is forced to peek under the floorboards of her carefully constructed memories, she comes to question the version of her history that she has clung to so fiercely. Lauren's search for the truth about what happened on that fateful night so many years ago is a riveting tale that will keep readers feverishly turning pages.
When he was the NYPD's top homicide investigator, Dave Gurney was never comfortable with the label the press gave him: super detective. He was simply a man who, when faced with a puzzle, wanted to know. He was called to the investigative hunt by the presumptuous arrogance of murderers – by their smug belief that they could kill without leaving a trace. There was always a trace, Gurney believed.

Except what if one day there wasn't?

Dave Gurney, a few months past the Mellery case that pulled him out of retirement and then nearly killed him, is trying once again to adjust to his country house's bucolic rhythms when he receives a call about a case so seductively bewildering that the thought of not looking into it seems unimaginable—even if his beloved wife, Madeleine, would rather he do anything but.

The facts of what has occurred are horrible: a blushing bride, newly wed to an eminent psychiatrist and just minutes from hearing her congratulatory toast, is found decapitated, her head apparently severed by a machete. Though police investigators believe that a Mexican gardener killed the young woman in a fit of jealous fury, the victim's mother—a chilly high-society beauty—is having none of it. Reluctantly drawn in, Dave is quickly buffeted by a series of revelations that transform the bizarrely monstrous into the monstrously bizarre.

Underneath it all may exist one of the darkest criminal schemes imaginable. And as Gurney begins deciphering its grotesque outlines, some of his most cherished assumptions about himself are challenged, causing him to stare into an abyss so deep that it threatens to swallow not just him but Madeleine, too.

Desperate to protect Madeleine and bring an end to the madness, Gurney ultimately discovers that the killer has left a trace after all. Unfortunately, the revelation may come too late to save his own life.

With Shut Your Eyes Tight, John Verdon delivers on the promise of his internationally bestselling debut, Think of a Number, creating a portrait of evil let loose across generations that is as rife with moments of touching humanity as it is with spellbinding images of perversity.
That's my mailbox for the last few weeks. What's been in your mailbox? Happy reading!
The following two tabs change content below.
Related Posts