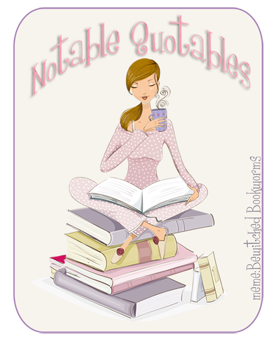 Welcome to Notable Quotables! Not sure exactly what you're supposed to do to be a part of the meme? Check out our first post
here
.
Notable Quotables is a meme we started here at Bewitched Bookworms to share some of our favorite quotes in the books we've been reading. We think it is a fun way to find out a bit more about each other as book bloggers and to share everything from great snarky zingers to sigh inducing avowals of love.
Anyone can participate in this meme and it really can be any quote from any book, no matter the genre. So get creative and share something fun!
Here's our quote for the week,
from
To Sir Phillip With Love
by Julia Quinn
goodreads
Eloise just stared at him. As long as she lived, she'd never understand men. She had four brothers, and quite frankly should have understood them better than most women, and maybe it had taken all of her twenty-eight years to come to this realization, but men were, quite simply, freaks.
I love how Julia Quinn captures all the humor and angst that are so important to a great love story. Every woman has at one point looked upon a man and felt this exact same way. And no doubt every man has been equally mystified by the seemingly illogical nature of women. That's what keeps people falling in love and what makes falling in love so fun…the sheer impossibility of it. And it's what keeps me reading good romance novels…there's nothing more satisfying than seeing two people, so obviously made for one another, FINALLY figuring it out. *sigh*
If you'd like to share your Notable Quotable post, please be sure to sign the link list below!
For example:
Name: Bewitched Bookworms
URL: http://www.bewitchedbookworms.com/notable-quotables-10.html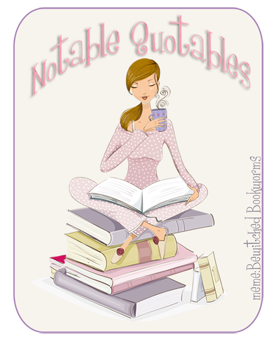 Feel free to use our button if you like
(you can just grab the code above).
Or if you prefer, make your own!
Have a wonderful Monday!!
The following two tabs change content below.
Related Posts