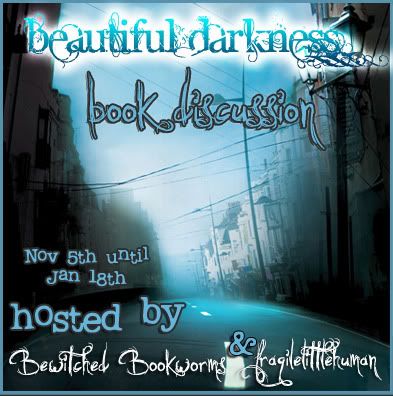 Welcome to the Beautiful Darkness Book Discussion!! Over the next two weeks we will be discussing Beautiful Darkness a few chapters at a time with posts and discussion questions by a variety of guest posters. Posts and discussion questions will go up on Tuesdays and recaps of the discussion question answers will go up on Sundays. For the complete schedule of chapters and dates click here.
Also, as we are the Bookworms and are physically incapable of not hosting a give-away for any major event on this blog, there's a give-away going on in conjunction with the discussion! WOOT!! Find out all about that here as well.
And now a warning….while we will keep each week's post spoiler free for those who have only read up to and including the chapters being discussed that week, if you haven't read the book at all you will find spoilers about the sections of the book being discussed. SO…if you haven't read the book at all…STOP. GET THE BOOK. READ IT. RETURN. Easy, peasy, extra cheesy, right, Cutie? And in conjunction with that, we do ask that all of you participating in the discussion please keep your responses spoiler free. We know this can be hard but please have a heart for those who are enjoying the read-along aspect of the discussion and do your best. We in turn will do our best to monitor the comments.
And finally….on with this week's discussion written by Cutie!!!!

Did I, cutie, pick this set of chapters so that I'd be posting on 1-11-11, because I got overwhelmingly giddy at the prospect of blogging today? Maybe.


Fun facts:
I drank a lot of iced tea whilst reading this novel. (Unsweetened, go figure.)
I made (and ate) a lemon meringue pie during the reading of this novel
That's it right there. —–>
I suddenly want fried chicken with some homemade mac & cheese, please. Mhmmm… nom nom nom.
I must learn how to make cheesy grits, but being Italian, would I be cheating on polenta by doing so?
Realization: I am obsessed with shoving things down my face hole. Awkward.
Some more useless (and overly complicated) information: I am reading each of these chapters for the first time. After finishing a section I'z gonna type out my fresh thoughts. Rambling and randomness are highly likely.
Ramble, ramble, ramble. Let's get this party started, shall we?
6.20: Dark Fire
Knock 'em Dead, Kid
I didn't move.
"What do we- what do I do?"
"Fight."
Anyone else ready for a rumble? I sure am! And chapter 6.20 (Part 6) gives us a taste of action in the form of three… No, wait. Let's count them again, four little ladies: Amma, Arelia, Twyla, and Gramma. But I'm getting ahead of myself. Some highlights if you will:
1. Ethan, Liv, Link, Ridley, and Leah (good old PMOTSW or "praying mantis of the supernatural world") jump right out of the proverbial frying pan and straight into the fire.
2. Leah takes some names and kicks some serious undead arse.
3. Ethan tries to get his friends to turn back and earns what I'd like to dub "The Scooby Crew Speech of Loyalty," which always goes a little something like this: Dearest Aquaman, You can't do this without us, you dumb ass. So quit all this whining and be grateful you've got such awesome friends. Thanks much. Your Stupidly Loyal Sidekicks.
4. We finally catch up with Lena, who is under some sort of trance and being carried around like a sack of potatoes by John Breed (what the heck is up with his name, eh?) who is now more zombie than uber cool scary dude. Meanwhile, Sarafine is working her mojo in an effort to summon the Dark Fire by lying on an altar (altar = bad news always). All the while, Vexes (Dementors maybe?) swirl and twirl around adding spook and gloom to the party with a side of Larkin and the Blood Pack (Nice subtle name there, boys.). You got all that?
5. We come face to face with the infamous Abraham, evil of all evils, who makes everyone else look like Santa Claus.
But the best part is when the Cavalry shows up toting chicken bones and graveyard dirt ready for a little offside assistance. And we learn, once again, that Amma doesn't just make a mean Sweet Potato Pie, but that Vexes and other spooks better beware, because when Amma's little man is in trouble she is a mighty force that you best not be messin' with.
We were no longer silently watching, waiting for an opportunity to make our move.
The eyes of every Incubus and Dark Caster in the cave were on us,
canines bared and yellow eyes blazing.
We had joined the party, whether we like it or not.
Dum. Dum. DUM.
6.20: Seventeen Moons
What's Your Name Little Girl?
I looked at her, and I knew what she was.
The girl I loved.
The girl I would always love.
Well, here we are ladies and possibly gentlemen. The Claiming. The scene has been set: Nasty beasties and demons lurkin' about wantin' to force Lena into choosing the Dark Side. Ethan doing everything he can to save his one and only love (including turning his back on a girl who loves him, who gave up her life's work for him, and, oh yeah, isn't all psycho emotional, not to mention, endangering his best friend). And then there is Lena: mysterious, untouchable, emotional, and frankly, extremely self-involved. When faced with the reality of her decision, she ran. Thusly, the biggest question I had going into this chapter was: Would she be able to man up or would she run once more? Here's a few highlights:
1. Link is attacked by John Breed and Ridley saves him in a very human like manner (do we ever find out what's up with this creep?).
2. Lena's eyes are once again split: one green, one gold.
3. Ethan tries to convince Lena that she has the strength to choose. Annnnd he will always love her. *cue Whitney Houston*
4. Ridley tells Lena to choose good over evil even if it means the end of her life.
5. Lena steps up to the bat and swings with the help of Ethan and his mom. Or does she?
What just happened? We know that Larkin (*cheers*) and Twyla (*sniffles*) both died or burned up or whatever happened. So, we can infer that Lena will now have a set of beautiful green eyes… Right? Why do I feel it's not that straight forward?
Lena had made her choice.
She had Claimed herself.
Even if I wasn't sure what that meant, she was still with me.
I haven't lost her.
hmmmm….
6.21: Darkness and Light
Shooting the Moon
"It means you are yourself
-powerful and unique- like the Great Barrier,
a place where there is no Dark or Light, only magic."
O-Kay-Doe-Kay. So here's how I see it:
1. Abraham looks like Colonel Sanders. The end.
2. John Breed is part Evo (a Caster who is a metamorph with the ability to mirror human form) and part Incubus. His daddy (creator) is Abraham. He's disappeared, and it's assumed he's run off (you know what they say about assuming, right?). He'll be back in book three where he'll probably ride around on his Harley stirring up trouble. Maybe we'll find out why his name is John Breed? Cause he was bred for a purpose? And why John? Pretty common name. It means "god is gracious." Hmm…
3. Ridley's still alive, potentially a good guy, and relieved. Yay for our side! Right?
4. Lena now knows that Macon is alive, and she is grateful. As am I. I *heart* Macon.
5. Lena didn't choose Light or Dark, but both. Thusly, she "broke the order of things."
And, oh yeah, she broke the moon. My spider senses and all the doom and gloom looks from the elders are telling me this is a bad bad thing.
"And what happened to the moon?" Lena looked at Gramma,
but it was Amma who spoke up…
"You split it, child.
Melchizedek's right, the Order a Things is broken.
Can't say what'll happen now."
Anyone shocked Lena didn't pick Light? Yeah… I didn't think so.
6.22: The Way Back Home
Home is the place where, when you have to go there, they have to take you in.
– Robert Frost
But I'm not Light, Ethan.
I'm something else. I'm…
complicated.
Aren't we all? So, what happened in chapter 6.22:
1. Lena and Ethan get their snuggle on complete with electricity and heart palpitations. Sighs were heard 'round the world.
2. Ethan shares with Lena that his mother has forgiven her and gives Lena her necklace and his mother's rings back. Ya know, the ones she tossed like yesterday's trash.
3. Ethan gives Lena Lucille's tags. Why? I'm not sure, but he does.
4. Lena knows her "real" name, but is choosing to claim Lena. It's a good thing she's being so forthright and non-mysterious and all.
5. All's well, that ends well…. Or is it?
Too much is being pushed under the covers. Liv. John Breed. Lena having run away and embracing the dark side. Oh yeah, and there's that darn broken moon. Maybe, I'm just a jerk. Maybe, I'm missing the point. Maybe, I'm expecting too much from Lena. But honestly… I can't seem to forgive her right now. I can't forget the maggots crawling out of those pies or how mean she was to Ethan. Or the fact that she was willing to kill half of her family just to punish herself (the good half mind you with lil Ryan, anyone remember her?). Don't get me started on the bump and grind moment with John Breed. And frankly, I'm thinking there are better, sweeter fish in the sea for our sweet meat, Ethan. I just might be cheering for Team Impossible this time around, my friends. I know… I know.
Question Time:
To be frank,
I'm not sure what to ask.
So, I'm gonna go with the obvious.
The moon: It's broke.
The Order of Things: It's changed.
The elders: They seem scared.
Lena: She's powerful, dangerous, and unpredictable.
In the infinitely wise words of NKOTB:
Where do we go from here?
What are your predictions in reference to all this madness
(broken moon, broken Order, Good/Bad Lena)
and what roles will Lena and Ethan play in the coming novels?
Good cop. Bad cop. Maybe?I hope.*winks*

I'm off to finish this bad boy.
As for you….
Ready. Steady. Discuss!
Thank you so much, cutie, for such a great review of this week's chapters and an awesome question! Leave your answer in a comment below and remember that each answer to this week's discussion question is an entry into the Beautiful Darkness Book Discussion contest!
The following two tabs change content below.
Related Posts