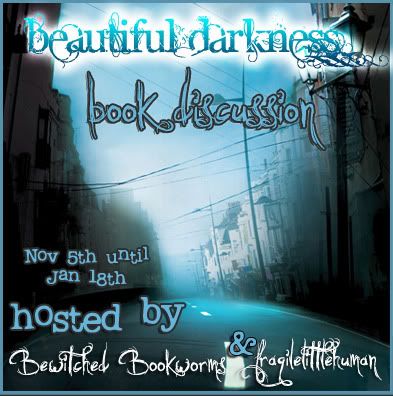 Welcome to the final installment of the Beautiful Darkness Book Discussion!! Over this final week we will be discussing the last three chapters of Beautiful Darkness. As always, the recap of this week's discussion question answers will go up on Sunday. For the complete schedule of chapters and dates click here.
Also, as we are the Bookworms and are physically incapable of not hosting a give-away for any major event on this blog, there's a give-away going on in conjunction with the discussion! WOOT!! Find out all about that here as well. Winners will be announce next Tuesday in our discussion wrap up post.
Now buckle up, dear reader, because Danny, Fragile and Pushy about to bring this discussion to a close!
6.22 New Blood
This chapters opens with a big "bang" moment with Link telling Lena and Ethan (who were both lying in Ethan's bed *insert romantic music here*) that he was bitten by an Incubus and now is turning into one of them.. OoOooooo Link? A Blood Incubus? Seriously, what an incredibly and unexpected development!
Laughing moment,
Link inhaled deeply: "Dude, you really need a shower"

Ethan to Link: "You got superpowers now and that's the best you can do?"
6.28 Sunrise
Link, Ridley, Lena, and Ethan surround what was once Macon's grave, digging and digging. Ethan and Lena are inseparable. Link and Ridley are trying to adjust to their new lives. Macon is in hiding with Marian and Liv as his companions.
Once they finish digging, they place the Arclight in the open grave and bury it. When they leave, Ethan and Lena go watch the sunrise, unaware they're being watched by and old man in a white suit and that a new song has appeared on Ethan's iPod.
Eighteen Moons, eighteen spheres,
From the world beyond the years,
One Unchosen, death or birth,
A Broken Day awaits the Earth
AFTER: Siren's Tears
It's eerie and telling that this final chapter is from Ridley's point of view. We find her, ensconced in her room, contemplating both the Arclight in her hands and John Breed. It's clear from the fact that she's hidden this Arclight away that she's not supposed to have it and it's equally clear that's she's brewing up some serious trouble for the next installment of Lena and Ethan's saga.
Was John Breed in her Arclight? Is this the same Arclight that Link and Ethan buried in the last chapter? Is she letting something out of it or merely deciding what to do with it? As usual, we're ending this book with far more questions than answers but they're some seriously compelling questions! And just like that, this book comes to an end!
Our cast of characters has been through a lot in the second book of the Caster Chronicles. Ethan in particular was forced to learn some dark truths about himself, not the least of which that he would follow Lena to the ends of the earth even if there was a good chance that she had gone completely over to the dark side. But as much as the Casters, Mortals and In-betweens grew during Beautiful Darkness, there's still so much left for them to learn, and for us to learn too. Knowing that there are still two more books left in this series, this week's question is:
What ONE question
do you most hope to have answered
in the next Caster Chronicles Book?

Is it whether or not Lena and Ethan will ever get a truly happily ever after? Is it about the still very mysterious John Breed, or perhaps whether or not Ridley will get her Siren groove back? Is it the story behind a smaller character like little Ryan or Carlton Eaton? Or perhaps your wondering what the deal is with that portrait of Ethan's great-great-great-uncle Ethan that has been hidden under sheets for so long. Whatever it is, we want to know!
Also, because this is the last post, and we're running this discussion so we make the rules, there's a bonus question this week, which will get you an ADDITIONAL ENTRY into the Beautiful Darkness Book Discussion contest!!! Here it is:
What was your favorite scene
in Beautiful Darkness?
Amma with the One-Eyed Menace? Macon emerging from the Arclight? Lena and Ethan, finally back together and inseparable once again? Let us hear it! We want to know!
Finally, thank you so much, dear reader, for joining us each to discuss these chapters and for giving us your amazing answers to our discussion questions! We hope you've enjoyed this discussion as much as we have enjoyed hosting it! So please, leave your answer to this final question in a comment below and remember that each answer to this week's discussion question is an entry into the Beautiful Darkness Book Discussion contest!
The following two tabs change content below.
Related Posts