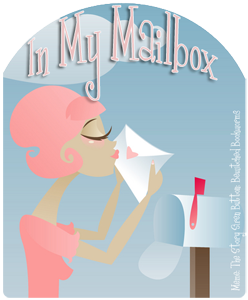 The idea is to post the books you got this week,
whether you bought them, got them as a gift,
from the library, or received them to review.
This week's blogger is cutie.
HAPPY NEW YEAR!!!!
I hope you all had a wonderful holiday season
and a fantastic New Year.
We cuties had a goodin'.
A little eggnog.
A little pie.
A lot of family time.
Good times were had.
Some of those good times had to do with new books,
fancy that, eh.
Wanna see them?
You do.
Cake Pops by Bakerella
Matched by Ally Condie
Paranormalcy by Kiersten White
Buffy the Vampire Slayer Season Eight Volume One:
The Long Way Home
by Joss Whedon, Georges Jeanty
Buffy the Vampire Slayer 1:
Coyote Moon; Night of the Living Rerun; Portal Through Time
by John Vornholt, Arthur Byron Cover, Alice Henderson
It's not my usual overwhelming haul of books,
but I think it's purdy fan-taz-mic if I don't boast so myself.
Buffy is my new obsession.
It's like a drug to me.
And whilst it is taking away from my usual shenanigans
(reading, blogging, champion tooth picking)
I feel the world shall benefit from the knowledge I've gained
from my good friend Buffy and her Scooby Crew.
And that's what I've got to say.
*BIG cheese grin*
Make sure to check out other participating blogs/sites!!
But before you scamper off make sure to share with us
which books you acquired this week and
THE one you have been dying to read.
Pleasy Cheesy share with us!
Until next time–
Yours forever truly,
The following two tabs change content below.
Related Posts