If animals were more like us, if mice kept pets and toads could cuss, if dogs had wives and chipmunks dated, sheep sat still and meditated, then in the forest, field, and dairy you might find this bestiary, read by storks, by rats and kitties, skimmed by cows with milk-stained titties. "I found the book to be most droll," might quip the bear, the owl, the mole, Others, though, would be more coarse. "Bull," could say the pig and horse. As to the scribe, they'd quote the hen: "Trust me, he's no La Fontaine."
For full disclosure, I will start this review by saying I have never read anything by David Sedaris that I didn't thoroughly enjoy. In my opinion, every single thing that David Sedaris writes is worth reading. This man, who has the sort of razor sharp wit that will leave you laughing so hard that you're gasping with breath, is a sardonic genius on par with Oscar Wilde and Dorothy Parker. His ability to paint simultaneously outlandish and recognizable scenes of modern Americana is truly a pleasure to experience, and his latest literary offering is no exception.
These sixteen vignettes are written in the vein of Aesop's fables…if Aesop had been set to describe the foibles of our modern world without care for morality lessons. In these short stories, Sedaris is able to strip away questions of personality and appearance by using animals. In an interview he did on NPR he said, "[E]verybody knows what a squirrel and a chipmunk look like…So you don't have to describe them. So you can just cut right to the chase." With this freedom, Sedaris is able to stay lean and nimble in his storytelling, focusing on the amoral often absurdly evil behavior of his characters and the effects those actions have.
From the lab rat who believes that illness is the fault of an individual's negative thoughts to the cow whose greed causes her to choose a turkey in the Christmas grab bag knowing full well that the turkey is on the Christmas Eve menu, we see humanity's bad behavior displayed unflinchingly, inevitably with bad results for all involved. Sedaris's characters live hard, harsh lives with very little empathy for one another and it would leave the reader wondering what that says about our own world if one weren't too busy laughing at the surreal image of singing parasites living in a hippo's anal track.
Bottom Line
I loved this book. At once both horrifying and hilarious, this series of not-quite fables is a highly enjoyable treat. Pick it up now!
I give it 5+ out of 5 books!

I cannot emphasize enough what a treat it was to listen to this book. Narrated by David Sedaris himself, along with Dylan Baker, Elaine Stritch and Sian Phillips, these great talents bring forth every ounce of comic Schadenfreude in this book. But don't miss the opportunity to look through the book as well. Each story comes with an illustration by Ian Falconer, whom some of you may know from his series of children's books, Olivia. Still, the audio version of this book is not to be missed!
I give the audio portion of this book a big 5+ out of 5!
David Sedaris is featured regularly on NPR and if you aren't familiar with his work, you may want to take a chance to listen to one of my favorites of his works: The Santaland Diaries. You can hear an excerpt of this hysterical tale of unemployment, ennui and Christmas in New York City at NPR's site here.
And….
As you'll have noticed this book is one of our audiobook reviews, which is a perfect time for me to remind you about our year-long challenge which starts TODAY: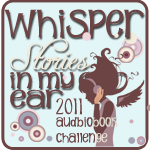 If you haven't signed up yet, you can do so here! All year long, we'll be doing reviews of audiobooks we listen to and hosting monthly give-aways for anyone who joins the challenge and posts their audiobook reviews in our Mr. Linky post (you can find January's post here). This month's give-away is your choice of one of three audiobooks:
Yup, that's right, you could win a copy of the very book I just reviewed!!! So definitely check that out. Just click on the challenge icon above and you'll be taken to the post that gives you all the information you need.
Now go and get lost…in a book!
The following two tabs change content below.
Related Posts