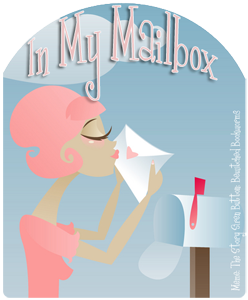 (You are so welcome to grab and use our Button, just please cheesy link back to us 😉
Weekly meme from
The Story Siren
. The idea is to post the books you got this week,whether you bought them, got them as a gift,from the library, or received them to review.
Danny here and ..
wohoo this is the first 2011 Mailbox for me!
Books I got for Review:
by Heather Terrell
(HarperTeen)
The first book in a dark, edgy new angel series about a girl who finds herself forced to choose sides in the battle between fallen angels, even if that means going against the boy she loves.
I'm totally excited for this book!
Angels!
Then I got some wonderful books from
Simon & Schuster


Ten Miles Past Normal
by Frances O'Roark Dowell
Janie Gorman wants to be normal. The problem with that: she's not. She's smart and creative and a little bit funky.
by Hannah Moskowitz
Release Date: April 19th
Across four sun-kissed, drama-drenched summers at his family's beach house, Chase is falling in love, falling in lust, and trying to keep his life from falling apart. But some girls are addictive….
Stay
byDeb Caletti
Release Date April 19th
Clara's relationship with Christian is intense from the start, and like nothing she's ever experienced before. But what starts as devotion quickly becomes obsession, and it's almost too late before Clara realizes how far gone Christian is—and what he's willing to do to make her stay.
Then of course I also bought some books…
Tempestuous
by Lesley Livingston
last book in the Wondrous Strange series
The intrigue and romance that began with Wondrous strange and Darklight come to a stormy head in Tempestuous, the breathtaking conclusion to Lesley Livingston's ravishing urban Faerie trilogy.
Leaving Paradise (1)
and
Return to Paradise (2)
by Simone Elkeles
Caleb and Maggie are outsiders, pigeon-holed as "criminal" and "freak." Then the truth emerges about what really happened the night of the accident and, once again, everything changes. It's a bleak and tortuous journey for Caleb and Maggie, yet they end up finding comfort and strength from a surprising source: each other.
and…
here are the audiobooks I bought…
When It Happens
by Susane Colsanti
Length: 7 hrs 30 min
goodreads
Told in alternating points of view, Sara and Tobey's real connection will have everyone rooting for them from the minute they meet!
Along for the Ride
by Sarah Dessen
Length: 15 hrs
A job in a clothes boutique introduces Auden to the world of girls: their talk, their friendship, their crushes. She missed out on all that, too busy being the perfect daughter to her demanding mother. Then she meets Eli, an intriguing loner and a fellow insomniac who becomes her guide to the nocturnal world of the town. Together they embark on parallel quests: for Auden, to experience the carefree teenage life she's been denied; for Eli, to come to terms with the guilt he feels for the death of a friend.
Oki,
this time I have to add something that has nothing to be with book but
got me excited like crazy!
Season 1, 2, 3 and 4 of the most awesomeness series
Friday Night Lights!
(amazon link)
I am incredibly and utterly addicted to this series..
I couldn't get enough from those
characters…
and
all I'm saying is:
Who the heck is Edward?
Give me Tim Riggins!
KThx!
and I'm frighteningly THIS close to buy this shirt!
Now… after this little crazy fan girl excursion …
what's in your mailbox?
The following two tabs change content below.
Related Posts