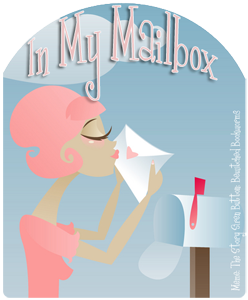 The idea is to post the books you got this week,
whether you bought them, got them as a gift,
from the library, or received them to review.
This week's blogger is cutie.
Hey howdy hey, party people!!
Ya know that feelin' you get when you say to yourself:
Self, there was somethang I was supposed to do today
but I just.can't. put my finger on what.
And then you have that epic failwhale moment when you
headdesk and realize what it was that you forgot!!
Welllllll….
That's me this mornin', afternooner, whatev time of day you be in.
So here's my quickly (yet lovingly) thrown together In My Mailbox.
My mister bought a great classic I've been dyin' to read.
My sister is forcing me to read a book that I KNOW will make me
tear out my hair and possibly kill baby seals (too far? not far enough?).
And I found Dark Horse Comics on NetGalley making my life complete bliss.
Ready Freddy, let's go steady!
On your mark. Get set. GO!
Books Bought:
My mister was the only person to buy a book in the last few weeks.
And it was:
The White Mountains (e-book)
by John Christopher
Tripods ftw!
I'm super stoked.
Birthday Book:
After tellin' my sister I was gonna pass on
the newest book in The Mortal Instruments Series
she went out and got me this for my birthday:
City of Fallen Angels (book 4)
by Cassandra Clare
That's what sisters are for, right?
Pressuring you into doing things you know are bad for you
yet ya just. can't. resist!
Netgalley books:
Did I happen to mention that Dark Horse Comics is now on NetGalley?
Have they always been and I just didn't know this wonderment?!
Either way.
*brain explodes due to awesome*
Buffy the Vampire Slayer (Season Eight)
Last Gleaming
by Various Authors including but not limited to
Joss effin' Whedon
publish date:6/1/2011
received from Dark Horse Comic
Avatar: The Last Airbender–The Lost Adventures
by Various Authors
Publish date: 7/27/2011
received from Dark Horse Comics
The Art of Alice: Madness Returns
by American McGee
Publish date: 4/27/2011
received from Dark Horse Comics
Angel Omnibus
by Various Authors including but not limited to
Joss effin' Whedon
Publish date: 7/20/2011
received from Dark Horse Comics
Ultraviolet
by R.J. Anderson
Publish date: 7/27/2011
received from Carolrhoda Lab
Tis what I know and what I've got.
Make sure to check out other participating blogs/sites!!
But before you scamper off make sure to share with us
which books you acquired this week and
THE one you have been dying to read.
Pleasy Cheesy share with us!
Until next time–
Yours forever truly,
The following two tabs change content below.
Related Posts