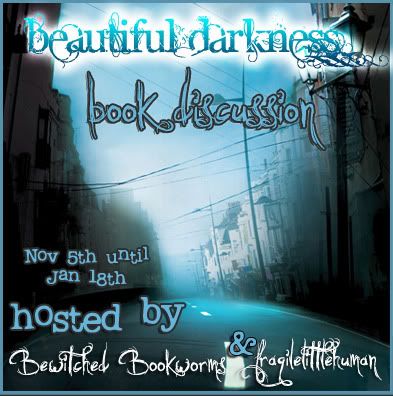 Welcome to the Beautiful Darkness Book Discussion!! Over the next seven weeks we will be discussing Beautiful Darkness a few chapters at a time with posts and discussion questions by a variety of guest posters. Posts and discussion questions will go up on Tuesdays and recaps of the discussion question answers will go up on Sundays. For the complete schedule of chapters and dates click here.
Also, as we are the Bookworms and are physically incapable of not hosting a give-away for any major event on this blog, there's a give-away going on in conjunction with the discussion! WOOT!! Find out all about that here as well.
And now a warning….while we will keep each week's post spoiler free for those who have only read up to and including the chapters being discussed that week, if you haven't read the book at all you will find spoilers about the sections of the book being discussed. SO…if you haven't read the book at all…STOP. GET THE BOOK. READ IT. RETURN. Easy, peasy, extra cheesy, right, Cutie? And in conjunction with that, we do ask that all of you participating in the discussion please keep your responses spoiler free. We know this can be hard but please have a heart for those who are enjoying the read-along aspect of the discussion and do your best. We in turn will do our best to monitor the comments.
And finally….on with this week's discussion written by Uhyesplease!!!!
Hey there! It's Uhyesplease with this week's discussion. I volunteered for these chapters before reading the book and not actually knowing what was going to happen. I was so excited after I read the book to go back and find what I was going to get to talk about! So lets do this!
6.15 Vexed
Ethan walked into a sticky situation when he saw Lena and John dancing together.
Oh God I'm getting hot flashes from pretty much every Junior High or High School dance when the 'love of my life' was dancing with another prettier, cooler girl. *sigh* Oh, where were we?
Yes, Ethan and Lena. Or rather Lena and John.
I knew I was in the moment before the thing happens – the thing that changes your life forever.
Ethan finally realizes that Lena is making her own choices which don't include him. Ouch. He high tails it out of the club with Liv following close behind. All those feelings of denial mix with a bit of want for Liv and he nearly kisses her. However, they were saved by Link, or rather, the Vex, and Amma and the Greats show up to kick some Demon Vapor Butt!
6.16 Revelations
I don't want you here, Ethan – keeps ringing through this chapter. Our poor boy is crushed. Amma is not happy with him which means NO breakfast for you! And he goes to the Ravenwood Mansion to wish Lena goodbye. And yet it's not just goodbye, she destroys her room with words which in turn destroys any hope of them working it out. Ethan finds himself in Macon's room and touches his belongings which spins him into another glimpse into the past. This time Macon is giving Jane an Arclight which she could use to trap him if she ever needed to stay safe. Ethan wakes up in his own bed afterwards, which is some pretty freaky Caster magic.
6.17 Inheritance
All Souls day found Ethan and his bat-shit crazy Aunts gearing up to go to the graveyard to pay respects to their dead. Chatting with them for a bit he finds out all sorts of information. The Sisters know a little bit more about the history of Ravenwood as well as the man he saw in his dreams, Abraham Ravenwood. Aunt Grace and Mercy gave him an earful on the man as well as their belief that he was still alive. The plot thickens, my friends…
6.17 Keeping
Ethan finally made it to the Cemetery with the Sisters, and caught up with Link. Of course all the nasty little hoochies were there. However Aunt Prue gave Ethan a little tag for Lucille (there's a reason, of course!) and off he went to visit his mom's grave. After a sweet, and just a little awkward, moment with his dad he paid his respects. Marian also popped over and gave him a gift. What is it?? Dum – dum duuuuuum! The Arclight! And then the painful realization that the woman, Jane, from his visions was his mother: Lila Jane Evers.
And Macon Ravenwood was the love of my mother's life.
Was it possible for you to stop reading at this point? Because I think the answer is NO!
However, what was the first thing
that popped in your head when
this ginormous cat was out of the bag?

Ethan's mom was Mason's love?
Were you crushed? Excited? Had you already figured it out? Or were you totally baffled?
Thank you, so much, Uhyesplease, for a great review of this week's chapters and a great question! Leave your answer in a comment below and remember that each answer to this week's discussion question is an entry into the Beautiful Darkness Book Discussion contest!
The following two tabs change content below.
Related Posts