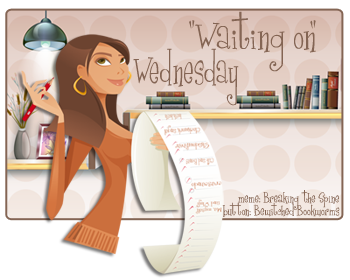 "Waiting on" Wednesday is hosted weekly by Jill at Breaking the Spine.
Last Book in the Wicked Lovely series from
Melissa Marr
Here is the blurb from goodreads:
The Summer King is missing; the Dark Court is bleeding; and a stranger walks the streets of Huntsdale, his presence signifying the deaths of powerful fey.

Aislinn tends the Summer Court, searching for her absent king and yearning for Seth. Torn between his new queen and his old love, Keenan works from afar to strengthen his court against the coming war. Donia longs for fiery passion even as she coolly readies the Winter Court for battle. And Seth, sworn brother of the Dark King and heir to the High Queen, is about to make a mistake that could cost his life.

Love, despair, and betrayal ignite the faery courts, and in the final conflict, some will win…and some will lose everything.

The exhilarating conclusion to Melissa Marr's New York Times bestselling Wicked Lovely series will leave readers breathless.
Can we just say we're not breathless, we're insane with desire to read this book!!! We've read Wicked Lovely, Ink Exchange, Fragile Eternity and Radiant Shadows, even Stopping Time which was released only as an e-Book but was SO DIVINE!!!!! And HOW we love these books. Now, finally, we're back to the main characters with whom we've all waited SO LONG to find out how their HEAs pan out: Aislinn and Seth, Keenan and Donia.
And if you're like us, you REALLY can't wait to read this book. But luckily, you don't have to. That's right!!! If you head over to Goodreads, you can enter for a chance to win a copy of the ARC of Darkest Mercy. Melissa herself is giving her fans the opportunity to get an ARC over on her Livejournal blog.
So check those out and we wish you luck! And check back here over the next few months for more information about contests to win an ARC and our review (SPOILER FREE OF COURSE) to make sure you're AS EXCITED AS WE ARE about this amazing book!!!
Now go and get lost….in a book!

Oh and you are of course welcome to grab and use our Button, just please cheesy link back to us 😉
The following two tabs change content below.
Related Posts