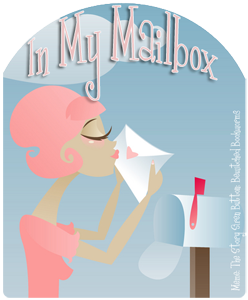 Weekly meme from
The Story Siren
. The idea is to post the books you got this week,whether you bought them, got them as a gift,from the library, or received them to review.
Heather here this week. I have three books to present and the descriptions are from
Goodreads
.
First up, I got one book from
NetGalley
– The Cellar by A.J. Whitten. (look for my review a little later today on this site)
Everyone at school can't stop talking about how hot Meredith Willis's new next-door neighbor, Adrien, is. But Meredith can't help but think there's something strange about the cool, sophisticated new guy, and those sunglasses he constantly wears are the least of it. Every time he's around, Meredith sees things—terrifying things that nobody else seems to notice. And when she dares to sneak a look into the windows of his house, she sees something in the cellar that makes her believe that Adrien might be more than just a creep—he may be an actual monster. But her sister, Heather, doesn't share Meredith's repulsion. Heather believes Adrien is the only guy who really understands her. In fact, she may be falling in love with him. When Adrien and Heather are cast as the leads in the school production of Romeo and Juliet, to Heather, it feels like fate. To Meredith, it feels like a bad omen. But if she tries to tear the couple apart, she could end up the last place she'd ever want to be: the cellar. Can Meredith convince her sister that she's dating the living dead before it's too late for both of them?
I really loved this book and I tell you why in my review.
Next, I received two ebooks for review: The Ways of Khrem by D. Nathan Hilliard and Mid-Afternoon by J.L. Bryan.

The Ways of Khrem, D. Nathan Hilliard's debut single-author collection, features three interconnected novellas: The Reach of Talanturos, The Cistern, & The Ghost of Candlewalk Lane. Cargill the Bookseller lives a quiet life, in a modest house, overlooking the vast city of Khrem…a magical metropolis of cavernous streets, lofty spires, and dark secrets. His life is turned upside down when Captain Wilhelm Drayton of the City Watch arrives at Cargill's doorstep and confronts him with his criminal past. Now Cargill must assist the Captain in solving mysteries in a city where the villain may not even be human, bringing all of his skills to bear as he finds himself at odds with gods, monsters, and psychopaths alike.
This sounds very interesting and I like the idea of the shorter interconnecting novellas that make up this work.


Are you sick of mopey, moody, whining vampires? Two New Orleans vampires are, and they're doing something about it. Their plan to abolish the annoying, pathetic new vampires and restore the traditional evil vampire hinges on one teenage girl…Hunterleigh Pelican moves from Big City to the ugly little town of Sacks, Utah. She falls for a handsome, diseased-looking vampire named Eggbert, but his feeble non-blood-drinking powers won't protect her when the fangs hit the fan.Also sniffing after Hunterleigh is the handsome Native American boy Lycanthro Turns-Into-Wolf, who may have some sort of supernatural secret of his own.Only Hunterleigh can stop the evil New Orleans vampire Douchette, his significant life partner Lionel, and their plot to restore the Dark Ages of vampire rule.Meanwhile, the hot n' lusty Vampire Queen of Utah is thirsty to sink her teeth deep into Hunterleigh's beloved Eggbert. Also meanwhile, Hunterleigh's father, Professor of Skepticism and Debunkery at Sacks Community College, is called away to debunk rumors of vampires taking over a small town in Maine.Can Hunterleigh save the people she loves? Can she stop the evil New Orleans vampires from bringing back the Dark Ages? Can she win Eggbert's heart while still stringing Lycanthro along? And will she ever find a decent prom dress? Tune in to find out!"With this book, the vampire fad has finally completed its long descent into utter stupidity." -Anonymous Notable Horror Writer
I loved Jenny Pox by this author and he offered a copy of this book to us to review. I love sarcastic books and I can take a joke, so I'm looking forward to a fun read with this one.
Have you read any of these books?

The following two tabs change content below.
Related Posts