Incarceron
Author: Catherine Fisher
Published: Originally published in the UK in May 3, 2007,
Released in the US January 26, 2010
Links: Goodreads, Amazon (No Kindle edition currently available)
Audiobook downloaded from Library/Book purchased by reviewer
Description:
Incarceron — a futuristic prison, sealed from view, where the descendants of the original prisoners live in a dark world torn by rivalry and savagery. It is a terrifying mix of high technology — a living building which pervades the novel as an ever-watchful, ever-vengeful character, and a typical medieval torture chamber — chains, great halls, dungeons. A young prisoner, Finn, has haunting visions of an earlier life, and cannot believe he was born here and has always been here. In the outer world, Claudia, daughter of the Warden of Incarceron, is trapped in her own form of prison — a futuristic world constructed beautifully to look like a past era, an imminent marriage she dreads. She knows nothing of Incarceron, except that it exists. But there comes a moment when Finn, inside Incarceron, and Claudia, outside, simultaneously find a device — a crystal key, through which they can talk to each other. And so the plan for Finn's escape is born …
RaShell: Before I start, I have to make a confession. The only reason I picked up this book in the first place, was because… it had a stunning cover. I never heard of neither Catherine Fisher, nor Incarceron before. I was completely oblivious, but the gorgeous, shiny and mysterious cover dominated by an intricate sparkling key drew me in, like a moth to a flame. And boy, was I not disappointed…
This is a very intelligent book. It has plenty of allegories, it touches deep philosophical questions and not only on the surface. Little clever epigraphs before each chapter hand out tiny morsels of wisdom related to a whole tale or just the chapter they're preceding. The story doesn't mingle, on the very first page, it throws you right into the murky waters of this cruel strange world and you either sink or swim. Then, in the next chapter, you get plucked right out, and placed into a completely different universe, which makes you wonder if it's even related to the one you glanced at before. And so on, the narrative weaves back and forth between the two, from lavish beauty to tough ugliness, honest friendship to fake smiles, revealing more and more about both, yet confusing the reader at the same time, delivering more mysteries and puzzles with each word.
For the most part, this is a story about Freedom. The meaning of it, the importance of it, the price for it. Perhaps it resonated with me so, because I, an American citizen, was born and raised in the Soviet Union? I had a happy childhood with loving parents and good friends, but then again, I was young, and more importantly, how would one know they're in prison, if they've never been outside of it? So goes the story of Incarceron, A PRISON LIKE NO OTHER. IT GIVES LIFE. IT DEALS DEATH. IT WATCHES ALL.
I really-really don't want to reveal any twists of the plot, in case you're yet to discover them for yourself. Instead, let me dwell on the characters. Even though you instantly know, that the universe and/or time they live in is not the same as ours, the people are as human as they get. They are certainly not what they seem at the first glance and there's no Black and White here, instead – it's all shades of Gray. There's the head strong young female lead and her wise mentor, and a street smart young male, together with his seemingly untrustworthy and vain "oath brother". Then there are figures of power, such as cool and vicious queen and her stiff and unapproachable Warden (who just happens to be the main heroine's father). To me, albeit their undeniable strangeness, all of the worlds of Incarceron instantly made perfect sense. Of course, the Sapienti are the "wise ones", even though I didn't know back then that it's a literate translation of the word originated from Latin. Naturally, the girl doesn't want to surrender to the arranged marriage plans and live "happily ever after" in a fake Realm (this word is used a lot in the book too :)) of the royal court. And finally, all the threads of the story come together to a satisfying conclusion, explaining some things, leaving you guessing about others. I am off to the next (and final) stage of this glorious play and really wish all of you join me on this journey. It is well worth it!
Pushy:
This is one of those books that doesn't just live up to the subtle hype surrounding it, it surpasses it and then some. I first heard of Incarceron from the tweets of various authors I follow. They were all very excited by this book, the story it told and the characters it introduced. So, not knowing much about it, I placed the audiobook on hold via my library. It was only later that I realized that I did myself a disservice.
This is a book that is meant to be read, in your hands, snug in a chair, with hours of time at your disposal, so that you can simply soak in its ingenuity and beauty. The story is amazingly well crafted. As RaShell mentions there are two story lines that at first don't seem to relate but are masterfully woven together. There is drama and suspense and the characters! Oh how I adored these characters. So real, it seems you can reach out and touch them and trust me there are time you will want to weep with them, cry out at their frustration and fight with all of your heart with them. These characters are some of the best I have ever read about. I loved them as if they existed in real life.
Bottom Line
This is a MUST read! Go to your bookstore, your library, your whatever and pick it up TODAY!
We give it an enthusiastic 5 out of 5 books.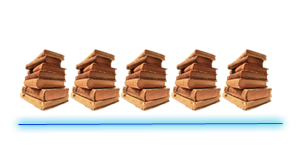 Final Notes and Giveaway!!!!
So, as many of you know, RaShell is not just a fan of books but an artist as well!
And she was so inspired by this book that she made the following GORGEOUS illustration:
And, to celebrate our love of this AMAZING book, she is generously sponsoring a GIVE AWAY where the winner will get an Incarceron illustration, some Twilight stickers, a bookmark and some temporary tattoos.
So here's how it will work…..
1) Leave a comment with your email address and a
link
to your favorite item from any of RaShell's etsy shops to enter. And, of course,
you must be a follower
of our blog, Bewitched Bookworms, to enter. (Not a follower? Just clicky the linky on the sidebar!)
2) You can get one extra entry for being a follower of RaShell's blog: Apples Of My Eyes (please mention that in your comment)
3) You can get one extra entry for following RaShell on Twitter (please mention that in your comment)
4) You can get one extra entry for tweeting the following: "Check out the awesome Incarceron inspired give-away @BwitchedBkworms sponsored by @RaShell (http://bit.ly/dbe7Tl)"
You may enter until 9pm CST, August 17th, 2010, and RaShell has generously agreed to make the give-away open internationally! The winner will be announced on August 18th when RaShell and I review the sequel to Incarceron, Sapphique:
Now go and get lost…in a book!

The following two tabs change content below.
Related Posts