The Mortal Instruments is a Trilogy by Cassandra Clare and fortunately all the books are already out! So you can securely read this review, get addicted and start reading on. No desperate waiting times… (Although, she does write more and you can read about this in one of cuties post. I'm with Stupid)
Ok, let's start with the first Book:
You like the cover? I do a lot!!!
Actually I adore it, one reason more for me to pick up those books…
Synopsis from goodreads:
When fifteen-year-old Clary Fray heads out to the Pandemonium Club in New York City, she hardly expects to witness a murder – much less a murder committed by three teenagers covered with strange tattoos and brandishing bizarre weapons. Then the body disappears into thin air. It's hard to call the police when the murderers are invisible to everyone else and when there is nothing – not even a smear of blood – to show that a boy has died. Or was he a boy?

This is Clary's first meeting with the Shadowhunters, warriors dedicated to ridding the earth of demons. It's also her first encounter with Jace, a Shadowhunter who looks a little like an angel and acts a lot like a jerk. Within twenty-four hours Clary is pulled into Jace's world with a vengeance, when her mother disappears and Clary herself is attacked by a demon. But why would demons be interested in ordinary mundanes like Clary and her mother? And how did Clary suddenly get the Sight? The Shadowhunters would like to know….

Exotic and gritty, exhilarating and utterly gripping, Cassandra Clare's ferociously entertaining fantasy takes readers on a wild ride that they will never want to end.
Danny: Where shall I begin now with this review? There is so much to say, but I think in the ends it comes down that I extremley adored this book. Although the ending is pure pain, truly it is….. so much pain…
The new world of the Shadowhunters:
The beginning was tough, since you suddenly find yourself into a world that mixes known mystic stuff with new and never heard of things, twists and turns it around and wooosh you find yourself in the Mortal Instruments world. But it's worth going through the inital amount of confusion, Oh it's so worth it!
Shadowhunters, Ok- never heard of then
Downwordlers , Please what? Never heard either..
Vampires, Oh finally something I know, check!
Werewolves, check!!
The characters
Let's just focus on the two main characters of the series, Clary and Jace. Clary is a normal Teenage girl that is reckless, loyal, loving and sweet. Sometimes she does things you would love to yell at her..
Jace, Oh my Jace… Jace is arrogant like hell! Then he's sarcastic, a loner, a jerk, handsome and did I say arrogant? But like cutie said in her goodreads review he's a Keeper. I love him and my heart breaks for him, so ..many… times…
All the characters CC develops here are unique and that is what I truly love about those books, she doesn't have plain shallow characters, each of them ( and also the secondary characters) are great and are often good for some surprises you would never guess at first.
Teaser Quote
"Have you fallen in love with the wrong person yet?'
Jace said, "Unfortunately, Lady of the Haven, my one true love remains myself."
…"At least," she said, "you don't have to worry about rejection, Jace Wayland."
Not necessarily. I turn myself down occasionally, just to keep it interesting."
The second book:
Synopsis from Goodreads.com:
Clary Fray just wishes that her life would go back to normal. But what's normal when you're a demon-slaying Shadowhunter, your mother is in a magically induced coma, and you can suddenly see Downworlders like werewolves, vampires, and faeries? If Clary left the world of the Shadowhunters behind, it would mean more time with her best friend, Simon, who's becoming more than a friend. But the Shadowhunting world isn't ready to let her go — especially her handsome,
infuriating, newfound XXX, Jace. And Clary's only chance to help her mother is to track down rogue Shadowhunter Valentine, who is probably insane, certainly evil — and also her father.
FireCrotch:
Now that you have the Shadowhunter lingo down pat and you understand the new world that is Clary's life now, it's smooth sailing. Okay, maybe not smooth sailing for Clary. The poor girl has a lot to deal with in this second installment. Her mom is in a coma, her dad is like the "he who shall not be named" Lord Voldemort of Harry Potter fame, and Jace is
Danny:

well yes WHAT is Jace?! this is the biiig biiiig question and shall not be answered here

…
…And then there is Simon…sweet and innocent Simon. Or is he?
Cassandra Clare keeps you guessing through the entire book and vaults you into the third book. You might as well set aside a weekend to knock out these three books because you won't be able to put them down!
Danny: Oh Fire, I'm glad I read them in my vacations, I wouldn't have been able to work. After you read the first book you cannot NOT read this one. City of Bones ends with such a woohoo effect that it would drive you mad if you are not reading it. This book is again a rollercoaster of emotions! It leaves you breathless and let's you flipping the pages ( or hitting the Next Page Button on your Kindle). You have to know how it goes on. And believe me when I'm saying you will get pissed! Angry! This book give you all of them! Believe me!
The third book:

Synopsis from Goodreads.com:
To save her mother's life, Clary must travel to the City of Glass, the ancestral home of the Shadowhunters — never mind that entering the city without permission is against the Law, and breaking the Law could mean death. To make things worse, she learns that Jace does not want her there, and Simon has been thrown in prison by the Shadowhunters, who are deeply suspicious of a vampire who can withstand sunlight.
FireCrotch: My favorite of the three books…I didn't want it to end…well until I found out a couple key pieces of information. The characters spend a lot of time in this book being fooled by people, places, and things. Turns out glass isn't quite as clear as one might think. There are a lot of secrets in this final installment, but don't worry…all will be revealed!
Danny: Honestly, I cannot say if this one really was the best book for me. But I was so relived when it ended, although I also had mixed feelings, I didn't want this series to end but at the same time I wanted to know how it will all turn out. Well, this book had some heartbreaking scenes in it, really really heartbreaking and the romance.. *sigh* the romance. I think I had tears in my eyes the last 25%. This was again a roller coaster of feelings and just.so.awesome!
Cassandra Clare has a way with twist and turns so unexpectant that they leave you gasping for air. Yes, I mean it! I cannot even remember books that left me with so many feelings like The Mortal Instruments. I love Cassandra Clare for every word she wrote and at the same time hate her since she left me so speechless and heart broken so often. ( Ok I'm kidding, I love her!!!)
The last book brought all the loose ends together with a fulminant ending!
My heart belongs Jace who is one of the awesomenest characters in the YA literature I ever met. And I blame my lack of english for not having better words to describe him! Jace is such a arrogant, brave, loyal and lovely boy I wished him everything and most of all love, he deserves nothing less!
I truly can't wait to read more from CC! Thank you!!
Our final Verdict:
Those two Bookworms here are sure, this series needs 5 books!
(I think cutie would agree with us here)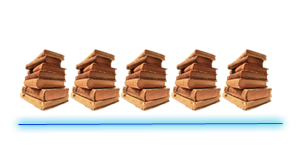 Before I close, we have a new comment system installed called Intense Debate, I heard so much good and also some bad things. I love it so far, really do and please help us testing it!
The following two tabs change content below.
Related Posts