Thanks to netGalley I could lay hands on an ARC ebook copy of The Iron Daughter, the second book of the Iron Fey saga by Julie Kagawa. I couldn't tell you how happy I was finally reading how the story of Meg, Ash and Puck goes on. (Ok, happy might be an understatement, I squueeed like a little Fangirl!!) You can read my Review about the Iron King here. Oh and you can easily read both reviews, I kept them free of Spoilers, all I want to tell you is how lovely those books are and that you should truly consider reading them!
The Iron Daughter will be released August 2010
(which is a good month.. btw)
I love pretty cover art, and although I normally don't like people on a cover,
this one is just gorgeous.
Maybe it's because the girl is so beautiful
Synopsis from goodreads
The Iron King left us with Meghan following Ash to the Winter court and the Iron Daughter just starts with Meg being held at the Unseelie Court. Winter Prince Ash seems to be far away and not just physically, but also emotionally so Meg is left alone at a place a Summer princess doesn't belong. When summer turns towards the end the Scepter is given from the Summer Court to the Winter Court. But, during the celebrations the Scepter is stolen and nobody wants to believe Meg about the dangers of the Iron Fey. And again, Meg has to face the Iron Fey, get the Scepter back to avoid a war between Unseelie and Seelie Court that would turn both worlds upside down or even worse…
Just like the first book, I was drawn to those wonderful characters Julie has created. I feel so connected to her characters and her unique and wonderful world she created. Although, I have to say, I hate second books within a sequel! The first books leaves you with an open end, a evil cliffhanger and I was dying to know how it goes on, but then you read the second book and you feel even more uneasy than before. Argghhh one more book until I know how it will all end!
The Iron Fey Story goes on….
Julie just wrote an awesome second book full of action, love, passion, stubbornness and pain. We follow Meg during her adventures and I can't say enough how I love this brave, stubborn and lovely girl. All the characters we got to love in the last book are back and even more alliances are formed, one that truly caught me by surprise but in the end got a place in my heart just like the other ones. I promise, you will never guess who that is! This alliance is such a smart twist that leaves you truly thinking about who is really that bad force in this story. Well done… really well done.
A little heartbreak (or a lot of heartbreak)…
We go deeper into the unfortunate love triangle of Meg, Ash and Puck. It makes my heart ache that in the end she can only have one, while the other one will be left alone, unless you assume they end up in a Threesome but I bet that this is not going to happen. The book is full of romance and heartbreaking and I had so often tears in my eyes! I know I say that often, but you will have tears in your eyes, too. Promise!
Truth to be told, I wanted to yell at Meg at some times in the book, (unfortunately she won't hear or listen to me…) But this makes this book even more emotional and passionate.
While Ash is the "swoon* cold, dangerous determined boy, Puck gives the story a funny side that makes you laugh out so loud just puts a smile on your face. Seriously, while reading the book I had the characters in front of me, they seemed real and Puck is the wittiest character I met in a book for a really long time. He gives the book a light-hearted tone and he's just so easy to love. I mean yes, I'm Team Ash I love this boy but while reading The Iron Daughter I was
this

close to switch teams!

There I said it, but it's true. I'm begging Julie for an happy ending for all of them!
My final Verdict:
The Iron Daughter is full of surprises and so many twists and turns that makes you laugh, break your heart and leave you gasping for air! The plot goes on so fast I barely had time to breath or even to stop!
Since I'm that sort of emotional person that often judges books by how they make me feel, The Iron Daughter deserves it's 5 stars with a tiny tear on top! (which is like a crown from me 😉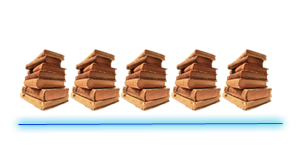 Now, we have to wait anxiously for the 3rd and final book The Iron Queen, that will be released February 2011. How cruel is that ? This is nearly a year? *gasping for air*
But we have something in between to get back into the Faery World, Julie wrote a Novella called
The Winter's Passage
which will be released only as eBook in June 2010. There isn't much known about this Novella but you can bet that I will read it as soon as I can get it into my fingers. And, isn't that cover lovely? I bet there will be wolves in the Novella…
So, I really hope I made you considering reading those books because I truly believe that you won't get disappointed! If you want to know more about Julie Kagawa and The Iron Fey then follow those links:
Links:

The following two tabs change content below.
Related Posts