First, we can't believe we are at this point already…
I mean look at us, we started 2 month ago with the simple wish to share our love of books.
Now, we have 100 Follower and we can't tell how happy this makes us! *does a little crazy happy dance* (glad that you all cannot see that now…) Since we are so happy and just love to share our happiness we celebrate this with a giveaway that is just great. (Well, we hope you all find it great!)
We all put our heads together and thought about great prices and this is what we have for you –
fasten your seat belts!
1.) Signed copy of The Dead-Tossed Waves
(The Forest of Hands And Teeth Book 2) by Carrie Ryan, bookmarks from both The Forest of Hands And Teeth and The Dead-Tossed Waves, an Eat. Prey. Love. sticker from the The Dead-Tossed Wave promotional pack and a CD of previews for sequels that were released this year.
2.) Hard Copy of Undead and Unworthy
Queen Betsy Book 7) by MaryJanice Davidson
The author writes funny supernatural romance stories like no one else. Book 7 follows new bride Betsy, who also happens to be Queen of the Vampires, as she struggles with being a surburban bride as her enemies stir up more trouble. There are currently 8 books in this series published and the 9th will be out in July 2010.
3.) Cute, Springy, purple bag
that will look lovely against your copy of Beautiful Creatures. Inside you'll find a mini brush set and a full-size lipgloss – All from Mary Kay Cosmetics!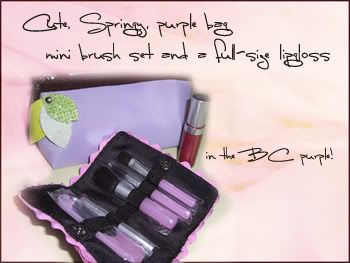 Isn't that lovely?
4.) 20$ Gift card from amazon!
Go and buy the book you love to read.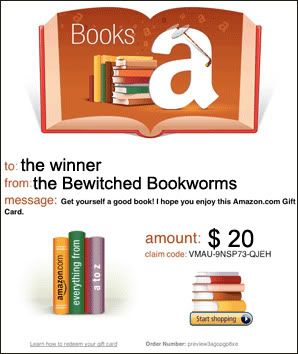 5.)
Make a wish Bracelet.
Perfect piece for daydreamers…a key, a rainbow, a heart, a blue and a purple bead, all hung on a silver toned bracelet. Definitely magic and faery inspired. And, who of us doesn't love the world of Faeries?
This Item is generously sponsored by
Heather Gardner
, she has not only fabulous
Book Blog
but also is an Artist, photographer and she designs juwelery that are mostly inspired by books.
Click on the Button below to visit her etsy shop and check out the wonderful stuff she creates and we are thankful and happy that she sponsors this piece of sweetness.
6.) Gorgeous Hush Hush inspired necklace.
Danny is a sucker for etsy and loooovesss looking around (as well and spending money there…) and she found this sweet shop
"Whimsical Fiction"
. Cynthia is selling book inspired jewelry that are all super sweet! Danny had a hard time deciding which one to give away and finally decided on this awesome black wing Hush Hush inspired necklace! (Oh and btw Cynthia also has an
BookBlog
)
Extra Prize:
A full Custom Blog Make over! You might or might knnow that Danny is (apart from an obsessive reader) a small Blog Designer and so we are giving away one complete Blog Layout for all those who want to win one!
Important Note: Since not every one has a blog or even wants a layout not every one is directly entered in this certain giveaway. So please leave a note in the comment that you want to enter this giveaway!
Seven prizes which means we will be picking seven lucky winners!!!! We hope you enjoy them as much as we enjoy having you here!
So on to the important stuff….how to enter:
First, you'll need to add a
comment
below saying that you are a
follower
(yes, you must be a follower to enter; we're tricky that way!), that you are interested in participating in the contest and providing your email address so that we know how to contact you should you be one of our lucky winners.
You can get EXTRA entries in the following ways:
+1 entry for tweeting about the contest. Please include your twitter handle in your entry comment (so we can link the two together in case it's different from your Blogger/Google handle)

and make sure to tag our twitter account,

BwitchedBkworms

in your tweet so we'll see it

. (Note: only one extra entry regardless of number of tweets, but please feel free to tweet the heck out of the contest, we don't mind!)
+2 entries for posting about the contest on your blog (please leave a comment on this post with the link to the post on your blog). Feel free to use the grab me code on the side bar to use our graphic.
+2 entries for putting a link to the contest up on your sidebar (please leave a comment on this post with the link to your blog). Again, feel free to use the grab me code on the side bar to use our graphic.
+1 entry for telling us which book you loved most in 2010. Hey, we are a Book Blog!! (simply add your favorite book in the comment, we'd simply love to hear about it)
Extra: Blog Layout – Simply leave in your comment that you'd love to enter the Blog Layout giveaway in addition and the Blog Layout winner is drawn separately!
This makes 7 possible entries, plus the extra chance to win a Custom Layout. Comments must be left by
10pm CST on May 3rd
. We'll post the list of
seven lucky winners
on May 4th. That gives you almost two weeks to enter. And, yes, this contest is open internationally!
So what are you waiting for?
Come and celebrate with us, grab our button and comment away!
P.S.: Please check
cuties post from today,
because apart from this post here it was cuties time for her Top 5 list post and her today's post is fantastic!! It's about sequels and "dying-to-read-books".
The following two tabs change content below.
Related Posts