Hello, dear reader!!!
*Bookworms wave furiously!*
Is it warm where you are?
Well for the bookworms
(except for Cutie who lives in a super warm, super secret location)
the weather is starting to warm up.
Leaves are budding.
Flowers are blooming.
Robins have been sighted.
Spring in all of it's wonderment is upon us folks
and it is GLORIOUS!!!
Which leads us to thoughts of spring time activities.
Like spring cleaning!
For a while now, Danny,
our webmaster extraordinaire,
has been toying with the idea of a new layout for the blog.
And since she knows how we Bookworms loved the old layout,
she had to do…
Something exciting…
Something a little sleeker…
Something a little different.
And finally she's pinned it down!!
SO….
Today, we are presenting our new face!
Not only are we pleased as punch
to have this gorgeous new layout,
it also eliminates the problem we've had of late
of our site taking longer and longer to load.
Our new layout should load faster
which should make everyone happier.
And here and now Danny has to say: A big Thank You
to Parajunkee who helped with
a problem that drove me nuts!
Thank you girl!! You are made of awesome!
Is that all you say?
*the Bookworms shake their heads*
Oh, dear reader, when will you learn?
We never,
EVER,
do anything big without….
We want to celebrate a few things with you:
We hit the 1000 Followers mark in the beginning of the year
(which we still can't truly believe…)
We had our first Bloggoanniversary in February
Just today posted our 500th post…
and now our new layout!
Wooot-Wooot!
So! For the next twelve days until Easter
we'll be hiding a little eggs in our favorite posts.
Each day, we'll post a hint
for where you can find that day's egg.
Find the right post, click on the egg image you find there
and you'll be taken to a form where you can enter to win that day's book!
Not sure you want what we're giving away?
Take a look at some of the books we're offering:
Included in the Daily Give-aways:
Children of Scarabaeus, The Dark and Hollow Places,
The Vampire Diaries: The Return: Shadow Souls
The Vampire Diaries: The Return: Midnight, The Iron King, The Iron Daughter,
Fallen Angel, Shadowspell, The Summoning, The Awakening, The Reckoning,
Plus (not pictured)
Skate Fate, Out of the Shadows,
Jessica's Guide to Dating on the Dark Side, City of Fallen Angels
Yeah, they're pretty awesome!
AND if that weren't enough, each day, when you enter the contest, you'll be given a word to collect. Collect all twelve words and you'll build the magic sentence
that will allow you to enter for the grand prize pack:
The Grand Prize Pack includes:
Signed Copy of Afterlife
Signed Copy of Angelfire
Signed Copy of Desires of the Dead
Signed Copy of Shiver
Signed Copy of Linger
Hardcover Copy of Rival!!!
A Custom Made Cover for your eReader,
(from ACM Custom Designs)
Plus signed bookmarks and other swaggy items!
Woo-hoo!!!! Well, we hope you're as excited as we are about this contest.
In fact it means
12 days
One winner each day
plus
One lucky winner who wins the Grand Prize at the end!
And as for rules:
You have to be a Follower to play along.
(Especially since we are celebrating also our 1000+ Followers.
But new faces are so very welcome!!
Also, we hope that this helps to get to know us a bit better!)
And you know we love our international contestants
as much as our US ones so, come one, come all!!!
Anyway we hope you'll join us from
April 11th through the 23rd
for what promises to be a fun bunny hop
through the Bookworms favorite posts.
Remember you can search through all of our posts
via the search box on the sidebar, or you can use our lists in the linkbar at the top
where we have our reviews sorted by Title, Author and Rating:
So get ready to play!!
And if you have a second,
leave us a comment and tell us what you think of our new layout,
we'd appreciate your thoughts very much!
And we'd love you even more if you'd grab our
new Button and link back to us.
For those that have already our button:
Thank you sssssoooooosoooOOo much, we appreciate that,
of course you can keep the old button –
but grab our new one if you want
to exchange the old one.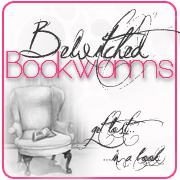 (If you link to us, let us know so
we can also grab your Button and return the favor)
Thank you very very much.
So our dear friends, we hope you'll play along,
and have fun with us during the next days!
*hugs*
The following two tabs change content below.
Related Posts