I've been on a roll with books featuring supernatural creatures for months. The latest books feature vampires and shapeshifters. The Chicagoland Vampires Novels were recommended to me on Amazon.com based on my previous purchases and it only took a glance at the synopsis for book one to get me hooked. The books are about a grad student (check, was one for 5 years), set in Chicago (check, I'm downtown every weekday for work), and supernatural creatures (check…oh wait, regular human here…uncheck). Of course I went ahead and bought the two books that have been published in this series. Free two day shipping from Amazon Prime, baby!
One of the things I really like about this author is the content available on her website. You can read a sample chapter and deleted scenes. Links are provided below.
Now on to the actual book reviews.

Some Girls Bite: A Chicagoland Vampires Novel (Book One)
Author: Chloe Neill (website, twitter)
Publication Date: April 2009
Genre: Urban Fantasy
Read Chapter 1 here and a deleted scene here
Back Cover Description
They killed me. They healed me. They changed me.
Sure, the life of a graduate student wasn't exactly glamorous, but it was mine. I was doing fine until Chicago's vampires announced their existence to the world – and then a rogue vampire attacked me. But he got only a sip before he was scared away by another bloodsucker … and this one decided the best way to save my life was to make me the walking undead.
Turns out my savior was the master vampire of Cadogan House. Now I've traded sweating over my dissertation for learning to fit in at a Kenwood mansion full of vamps loyal to Ethan "Lord o'the Manor" Sullivan. Of course, as a tall, green-eyed, four-hundred-year-old vampire, he has centuries' worth of charm, but unfortunately he expects my gratitude – and servitude. Right …
But my burgeoning powers (all of a sudden, I'm surprisingly handy with some serious weaponry), an inconvenient sunlight allergy, and Ethan's attitude are the least of my concerns. Someone's still out to get me. Is it the rogue vampire who bit me? A vamp from a rival House? An angry mob bearing torches?
My initiation into Chicago's nightlife may be the first skirmish in a war … and there will be blood.
My thoughts:
I was hooked within a few pages of this book. The main character, who goes by her last name of Merit due to having a hideous first name (and hasn't been mentioned in either book one or two), is a somewhat snarky, opinionated, no nonsense, reluctant vampire. Since she was made into a vampire without her consent after a rogue vampire attacked her and was scared away, she holds a very big grudge against her maker.
In the Chicagoland Vampires series, the vamps have gone public while the wider world of supernatural beings choose to stay off the radar of humans. This fast paced story follows Merit's transition from human to vampire and how it affects her roommate Mallory, weapons trainer slash sorcerer Catcher, and her maker, sexy and head vampire Ethan.
The book starts with Merit's attack and her subsequent arrival home after turning into a vampire. She is given a book of vampire rules and an order to see the master of the vampire house she now belongs to. Her rich upper-crust family did not accept her as a human and still don't as a vampire. The only family member that loves and accepts her is the ex-cop Grandfather, who just so happens to be the Ombudsman between the Chicago political machine and the supernatural citizens. When more women are attacked and murdered, the different vampire houses of Chicago are implicated in the attacks.
This novel follows Merit as she transitions to life as a vampire and becoming a member of her vampire house, all while holding on tight to her humanity and trying to solve the murders of other human women. My only irritation with this book is that the chapters are pretty long. Since I mostly read at lunch and on the train and I like to stop reading at the end of a chapter, I would have to read past my allotted time just to finish the chapter. (BTW I know, knit picky complaint. It's just my end of chapter OCD talking)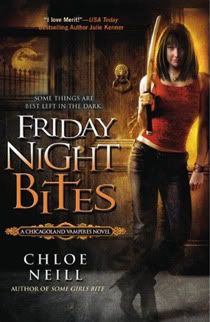 Friday Night Bites: A Chicagoland Vampires Novel (Book Two)
Author: Chloe Neill
Publication Date: October 2009
Genre: Urban Fantasy
Read Chapter 1 here
Back Cover Description
Vampires in Chicago!
You'd think headlines like that would have provoked the fine citizens of the Windy City to take up arms against us blood-sucking fiends. Instead, ten months later, we're enjoying a celebrity status reserved for the Hollywood elite – fending off paparazzi, who are slightly less dangerous than cross- and stake-wielding slayers. Don't get me wrong, Joe Public isn't exactly thrilled to be living side by side with the undead, but at least they haven't stormed the castle…yet.
All that will change once they learn about the Raves, mass feeding parties where vampires round up humans like cattle and drink themselves silly. Most civilized vampires frown on this behavior – but that doesn't make good copy for a first-time reporter looking to impress his high-society family.
So now my "master" – centuries-old yet gorgeously well-preserved Ethan Sullivan – wants me to reconnect with my own upper-class family and act as liaison between humans and vampires… and to keep the unsavory aspects of our existence out of the media. But someone doesn't want people and vamps to play nicey-nice – someone with an ancient grudge.
My thoughts:
The second book in this series picks up right where book one left off, with Merit still struggling to find what it means to be a vampire and let go of her humanity. She is forced to come face to face with her family by Master Vampire Ethan in order to go undercover and find out who is making threats against the Chicago vampire houses. Add in some surprising revelations about her roommate Mallory and her now boyfriend Catcher, and Merit's life is in transitional turmoil.
Vampires have become the new celebrities in Chicago. There are photoshoots featuring hot vampires, news media articles, and even paparazzi that follow them around. When someone threatens to expose the Raves to the general public, all signs point to Merit's ex-boyfriend's family as the culprits. She and Ethan infiltrate the world of her high society, upper crust upbringing to weed out who or what is responsible.
This book is equally fast paced as the first, but with shorter chapters so I could get more in on my train rides and lunch hour. The conflicts Merit has with everyone run deep in this book, exposing everyone's vulnerabilities. The ending leaves you craving book three.
Twice Bitten: A Chicagoland Vampires Novel (Book Three)
Author: Chloe Neill
Publication Date: July 2010
Genre: Urban Fantasy
Read Chapter 2 here (the author's sneaky that way)
Description:
Shapeshifters from across the country are convening in the Windy City, and as a gesture of peace, Master Vampire Ethan Sullivan has offered their leader a very special bodyguard: Merit, Chicago's newest vampire. Merit is supposed to protect the Alpha, Gabriel Keene-and to spy for the vamps while she's at it. Oh, and luckily Ethan's offering some steamy, one-on-one combat training sessions to help her prepare for the mission.
Unfortunately, someone is gunning for Gabriel, and Merit soon finds herself in the line of fire. She'll need all the help she can get to track down the would-be assassin, but everywhere she turns, there are rising tensions between supernaturals-not least between her and a certain green-eyed, centuries-old master vampire.
Check back on this blog for a review of book three in July!
I give both of these books 4 out of 5 books. Can't wait for more!
The following two tabs change content below.
Related Posts