Welcome to the Blog Fest 2012 organized by
Cinammon from a Journey of Books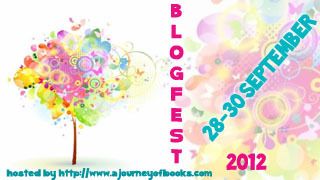 And.. I have an amazing Giveaway for you guys!
You can win a
Selection of my favorite New Adult eBooks! 
Yep, you got that right, one Winner will win all the books below!
(all eBook format) 
Beautiful Disaster, Easy, Clash and Avoiding Commitment.
(If you have already read one of the books in this package, I'm happy to exchange any of the books to another New Adult book with the same prize)
So, please just enter the Rafflecopter and visit other participating Blogs, each Blog has a fantastic Giveaway for you!
See, the full set here, and visit the next 5 blogs:
Another Author
Michelle Santiago
Sharon Hamilton Author
Jennifer DeLucy's Blog
Can We Talk About…
And now! Happy Blog Fest 2012!
Much Love,
The following two tabs change content below.
Related Posts