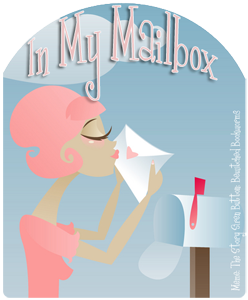 (You're welcome to grab and use our Button, just please link back to us)
Weekly meme from
The Story Siren
. The idea is to post the books you got this week,whether you bought them, got them as a gift, from the library, or received them to review.
Happy Sunday, everyone. And Happy Easter if you celebrate. Heather here again, and I have two books to share with you this week. (All book descriptions and links are to Goodreads. Click cover image to go to Amazon.com)
Let's start with the book I received for review from the author. I got a of the second book in the Travelers series by Claudia Lefeve, Paradox.
Everything is predestined.

Etta is slowly readjusting to life in her new reality, while still recovering from the shock over the news regarding her relationship with Cooper.

While learning more about her role as leader of the Council, she soon discovers that her future is linked to the five extraordinary individuals she must recruit in order to ensure her destiny.

Nothing is as it seems, as rivals become allies and friends become the enemy.

PARADOX is book two in the Travelers Series
I really enjoyed the first book in this series, Parallel (read my review here). I'm looking forward to catching up with Etta, and I'm especially excited to see where her relationship with Cooper is going. The science behind the time travel in this series is very realistic and not over the top in this series, which is very important to me as a scientist in real life.
I preordered Lover Reborn, the tenth installment of the Black Dagger Brotherhood series by J.R. Ward.
#1 New York Times bestselling author J. R. Ward's "different, creative, dark, violent, and flat-out amazing"* Black Dagger Brotherhood continues as a vampire warrior crosses the line between life and death…into a world of dark dreams and darker desires.

Ever since the death of his shellan, Tohrment is a heartbroken shadow of the vampire leader he once was. Brought back to the Brotherhood by a self-serving fallen angel, he fights again with ruthless vengeance- and is unprepared for a new tragedy. Seeing his beloved in dreams—trapped in a cold, desolate netherworld—he turns to the angel to save his former mate, only to despair at the path he himself must take to set her free. As war with the lessers rages, and a new clan of vampires vies for the Blind King's throne, Tohr struggles between an unforgettable past, and a future that he doesn't know he can live with… but can't seem to turn away from.
These books are pretty addicting–over the top, sure–but once you get over that fact, they are really enjoyable. I'm really looking forward to seeing how this one turns out because I really missed Tohr after he disappeared in the first books and finally reappeared in the last one (they kind of run together, so I don't remember which ones).
So that's what's in my mailbox. Hope everyone had a fantastic weekend and you got a few great books like I did!
The following two tabs change content below.
I'm a PhD chemist who loves sarcasm, music, and books-paranormal, mystery, thriller, suspense, horror, and romance. Most of my free time is spent at the martial arts studio these days--whether practicing Combat Hapkido or reading books while watching my son's Taekwondo classes, or even working up a sweat with Kickboxing for fun.
Goodreads
Related Posts