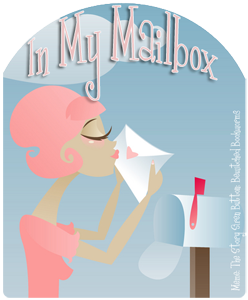 (You're welcome to grab and use our Button, just please link back to us)
Weekly meme from
The Story Siren
. The idea is to post the books you got this week,whether you bought them, got them as a gift, from the library, or received them to review.
Happy Sunday, everyone. Heather here again, and I've had such a wonderful weekend visiting with my BFF and old friends from Grad School that I just now had a moment of panic. I realized that I'd forgotten to do something. And this post was what I'd forgotten. Luckily, I've been a good girl financially and haven't bought any books in the last three weeks. (All book descriptions and links are to Goodreads)
Let's start with the book I've received for review from the author. I just got an ARC of the third book in the Songs of Magic Series by JL Bryan, Fairystruck.
I've really enjoyed this middle grade series so far, and I can't wait to dig into the third installment. Click the covers for my reviews of the first two books, Fairy Metal Thunder and Fairy Blues.
Finally, I won an autographed copy of Grave Refrain: A Love/Ghost Story by Sarah M. Glover on Goodreads.
Andrew Hayes, a brilliant but troubled guitarist in an up-and-coming band, has been haunted since childhood by the presence of his muse. One night during a performance in San Francisco he spots her–but she vanishes before he can catch her.

Desperate to find her, he accepts a curious offer to stay in the city, moving into a dilapidated Victorian undergoing renovations that stir up far more than dust.

Andrew's life soon becomes even more chaotic with the arrival of martini-swilling ghosts and a troupe of flesh-and-blood stoner spiritualists bringing bad tidings from the Great Beyond.

The dark side of his obsession creates visions both thrilling and menacing. As he struggles to solve the mysteries threatening the woman he loves, Andrew discovers his life is repeating a refrain more deadly than he'd ever imagined.

Inspired by the sexy noirs and comedies of the past, Grave Refrain transports the reader to where the things that go bump in the night not only thrill you, but might just take your breath away for good.
I'm really excited to read this one. It looks like it has musicians, romance, ghosts, mystery–all things that I love to see in a book.
So that's what's in my mailbox. Hope everyone had a fantastic weekend and your week a head isn't too stressfull.
The following two tabs change content below.
I'm a PhD chemist who loves sarcasm, music, and books-paranormal, mystery, thriller, suspense, horror, and romance. Most of my free time is spent at the martial arts studio these days--whether practicing Combat Hapkido or reading books while watching my son's Taekwondo classes, or even working up a sweat with Kickboxing for fun.
Goodreads
Related Posts