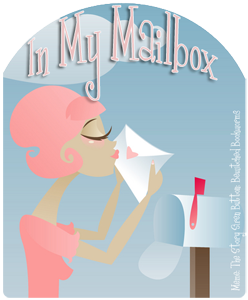 (You are so welcome to grab and use our Button, just please link back to us –
Weekly meme from
The Story Siren
. The idea is to post the books you got this week,whether you bought them, got them as a gift, from the library, or received them to review.
Hey, there. I'm popping in with the two books I've received before running out to watch the husband practice for his amateur motocross race that takes place in a few weeks. We're gearing up for some heart-thumping, dirt-flinging, dirt bike racing action. All links and descriptions are from goodreads and if you want to follow me on Goodreads, click here.
First up, I got Deadly Cool by Gemma Halliday in the mail from Harperteen.




Hartley Grace Featherstone is having a very bad day. First she finds out that her boyfriend is cheating on her with the president of the Herbert Hoover High School Chastity Club. Then he's pegged as the #1 suspect in a murder. And if that weren't enough, now he's depending on Hartley to clear his name. Seriously? Not cool. But as much as Hartley wouldn't mind seeing him squirm, she knows he's innocent, and she's the only one who can help him. Along with her best friend, Sam, and the school's resident Bad Boy, Chase, Hartley starts investigating on her own. But as the dead bodies begin to pile up, the mystery deepens, the suspects multiply, and Hartley begins to fear that she may be the killer's next victim.
Next up, I preordered Caprice Crane's With a Little Luck. I really loved her book, Stupid and Contagious, and I'm looking forward to reading this one too.
If love is in the cards, then somebody stacked the deck.
Los Angeles radio DJ Beryl "Berry" Lambert, whose name means luck, doesn't much believe in it—although, thanks to her dear old gambling dad, she's a bit superstitious, certain that everything happens for a reason. She keeps a four-leaf clover in her wallet, never takes off her horseshoe necklace, and won't tempt fate by walking under a ladder or opening an umbrella indoors. Ever.
When it comes to love, though, she could use a little luck. Two disastrous relationships back-to-back can mean only one thing to a woman who knows that everything good or bad happens in threes: A third Mr. Wrong is imminent. But fellow DJ Ryan Riley goes against the odds. Their on-air battle of the sexes is a hit for the station and sparks some serious heat after hours. Ryan is funny and sexy, and he thinks Berry's quirkiness is cute. Is their romance doomed by the numbers—or is a girl who leaves nothing to chance finally ready to gamble?
Caprice Crane's witty, winsome novel about the game of modern romance proves that with a little luck and the right stakes, everybody wins.
What's in your mailbox?
The following two tabs change content below.
I'm a PhD chemist who loves sarcasm, music, and books-paranormal, mystery, thriller, suspense, horror, and romance. Most of my free time is spent at the martial arts studio these days--whether practicing Combat Hapkido or reading books while watching my son's Taekwondo classes, or even working up a sweat with Kickboxing for fun.
Goodreads
Related Posts