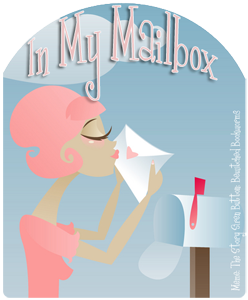 (You are so welcome to grab and use our Button, just please link back to us –
Weekly meme from
The Story Siren
. The idea is to post the books you got this week,whether you bought them, got them as a gift, from the library, or received them to review.
It's my week again, and I have preordered three books. Let's jump right in. (All links and descriptions are from Goodreads)
First up, I've been dying to read book three in the Caster Chronicles, Beautiful Chaos, by Kami Garcia and Margaret Stohl.
Ethan Wate thought he was getting used to the strange, impossible events happening in Gatlin, his small Southern town. But now that Ethan and Lena have returned home, strange and impossible have taken on new meanings. Swarms of locusts, record-breaking heat, and devastating storms ravage Gatlin as Ethan and Lena struggle to understand the impact of Lena's Claiming. Even Lena's family of powerful Supernaturals is affected – and their abilities begin to dangerously misfire. As time passes, one question becomes clear: What – or who – will need to be sacrificed to save Gatlin?

For Ethan, the chaos is a frightening but welcome distraction. He's being haunted in his dreams again, but this time it isn't by Lena – and whatever is haunting him is following him out of his dreams and into his everyday life. Even worse, Ethan is gradually losing pieces of himself – forgetting names, phone numbers, even memories. He doesn't know why, and most days he's too afraid to ask.

Sometimes there isn't just one answer or one choice. Sometimes there's no going back. And this time there won't be a happy ending.
Next, I received book three in the
Hush, Hush Saga
by Becca Fitzpatrick,
Silence
.
The noise between Patch and Nora is gone. They've overcome the secrets riddled in Patch's dark past…bridged two irreconcilable worlds…faced heart-wrenching tests of betrayal, loyalty and trust…and all for a love that will transcend the boundary between heaven and earth. Armed with nothing but their absolute faith in one another, Patch and Nora enter a desperate fight to stop a villain who holds the power to shatter everything they've worked for—and their love—forever.
The last book I preordered was the seventh book in the spinoff series from Maryjanice Davidson's Queen Betsy series featuring the Wyndham werewolves, Wolf at the Door.
The howlingly good spin-off of the Undead series from the New York Times bestselling author.

Rachel, a werewolf/accountant, is asked to keep one eye on Vampire Queen Betsy Taylor and the other peeled for a rogue werewolf who's itching to start a war. But her attention is mostly on a sexy, mysterious stranger she wishes she could trust.
So those are the books in my mailbox, what's in yours?
The following two tabs change content below.
I'm a PhD chemist who loves sarcasm, music, and books-paranormal, mystery, thriller, suspense, horror, and romance. Most of my free time is spent at the martial arts studio these days--whether practicing Combat Hapkido or reading books while watching my son's Taekwondo classes, or even working up a sweat with Kickboxing for fun.
Goodreads
Related Posts