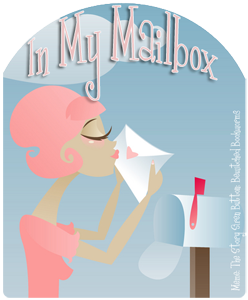 The idea is to post the books you got this week,
whether you bought them, got them as a gift,
from the library, or received them to review.
This week's blogger is cutie.
It's been a while since I've share books I've bought,
received, rented, what-have-you.
So let's drop the rambling and get right down to business.
Shall we?!
Books Bought:
I am still being super good about not buying books this summer.
Does that mean I haven't bought any??
Err… no, but I'm not buying a mountain of them a week.
So that's a step in the right direction!
In picture:
What Happened to Goodbye by Sarah Dessen *reviewed*
Along for the Ride by Sarah *reviewed on goodreads*
It's Kind of a Funny Story by Ned Vizzini *reviewed*
Will Grayson, Will Grayson by John Green & David Levithan *reviewed*
Netgalley books:
The Near Witch by Victoria Schwab
publish date:8/2/11
received from Disney-Hyperion

Putting Makeup on Dead People by Jen Violi
Publish date: 5/24/11
received from Disney-Hyperion
Legacy by Cayla Kluver
Publish date: 6/28/11
received from Harlequin
Dungeons & Dragons: Vol 1 Shadowplague by John Rogers
Publish date: 6/28/11
received from IDW Publishing
The Last Unicorn by Peter S. Beagle
Publish date: 2/8/11
received from IDW Publishing
Free things that are sent to me:
aka the wonderment
I will let the pictures do all the talking:
For serious. I'z in awe of these books.
The Scorpio Race is signed…. from her to me….
*whelmed*
The Mustache book be signed by the author to ones:
mr. and mrs. cutie.
To die for.
This one be all signed and shizzles.
*happy heart*
Names of books pictured above:
Mustache! by Mac Barnett & Kevin Cornell
The Scorpio Races by Maggie Stiefvater
Goliath by Scott Westerfeld
The Power of Six by Pittacus Lore
Entralled by Melissa Marr, Kelley Armstrong, Rachel Caine,
Claudia Gray, Carrie Ryan, Kami Garcia, Margret Stohl & more
Forgotten by Cat Patrick
Illusions by Aprilynne Pike
A Creed in Stone Creek by Linda Lael Miller
Fall for Anything by Courtney Summers
Absolute Midnight by Clive Barker
The Last Apprentice: Rage of the Fallen by Joseph Delaney
Random wonderment:
Heather sent us all the most adorable covers!
Pearl the Nook is extremely appreciative and oh.so.very snugly warm in it.
Front:
Back:
For more awesome creations by Heather click here.
The new bookmark pictured is my motto for this summer.
4 kid. 90 plus days. 110 plus degree heat.
*takes a deep cleansing breath*
As for my good friend the library,
I have rented soooo many book of late.
From poetry to art-books to comics to ya to children books.
And frankly, I'm worn out….
so we all have something to look forward to for next time!
As always:
Tis what I know and what I've got.
Make sure to check out other participating blogs/sites!!
But before you scamper off make sure to share with us
which books you acquired this week and
THE one you have been dying to read.
Pleasy Cheesy share with us!
Until next time–
Yours forever truly,
The following two tabs change content below.
Related Posts