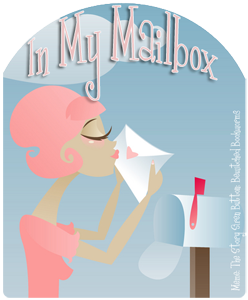 The idea is to post the books you got this week,
whether you bought them, got them as a gift,
from the library, or received them to review.
This week's blogger is cutie.
Good morning, fellow readers!
I would like to sincerely apologize in advance
for the lameness of this post.
a. I'z got a Rock Band hanger.
b. I forgot to put this post together yesterday
(see above point).
c. This morning is me and the mister's 12th anniversary!
d. I just woke up and thought:
Oh s#*t I forgot to do the IMM post!
e. I am fail.
Soooo….
I'm gonna just spam y'all with a bunch of book titles and pictures.
Sound good?
Good!
This week I bought two books I'z been dying to read.
I picked up a mountain of books I had on hold at the library.
I received a few ARCs in the mail that are to die for.
And for fun, I thought I'd share the awesome bookmark
my good friend uhyesplease sent to me for Christmas!
Books bought:
The Lost Hero by Rick Riordan
Desires of the Dead by Kimberly Derting
Books borrowed:
Angel: After the Fall Volumes 1-4
created by Joss Whedon
Tyger Tyger: A Golin War by Kersten Hamilton
Halo by Alexandra Adornetto
Taking Off by Jenny Moss
Fixing Delila by Sarah Ockler
Slice of Cherry by Dia Reeves
Scrawl by Mark Shulman
Unearthly by Cynthia Hand
Across the Universe by Beth Revis
Anna and the French Kiss by Ellen Schreiber
Once in a Full Moon by Ellen Schreiber
I Am Number Four by Pittacus Lore



Books bestowed:
Red Moon Rising (ARC for review) by Peter Moore
The Dark and Hollow Places (ARC for review) by Carrie Ryan
The Girl on Fire (ARC) compolation of multiple authors
Bookmarks of wonderment:
Tis what I know and what's I've got.
Make sure to check out other participating blogs/sites!!
But before you scamper off make sure to share with us
which books you acquired this week and
THE one you have been dying to read.
Pleasy Cheesy share with us!
Until next time–
Yours forever truly,
The following two tabs change content below.
Related Posts