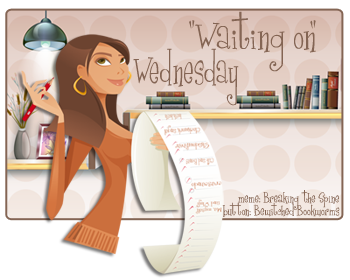 "Waiting on" Wednesday is hosted weekly by
Jill at Breaking the Spine
.
(Feel free to grab the Button just please cheesy with a cherry on top link back to us. Thanks!!)
*takes a deep breath*
It's time!
Next Tuesday is finally the Release Date of…..
by Karen Marie Morning
Release Date: January 18th!
goodreads
, preorder
amazon (Hardcover and Kindle)
I have my Kindle copy already pre orderded since
June… and I will most definitely bye the Hardcopy too.
MacKayla Lane was just a child when she and her sister, Alina, were given up for adoption and banished from Ireland forever. Twenty years later, Alina is dead and Mac has returned to the country that expelled them to hunt her sister's murderer. But after discovering that she descends from a bloodline both gifted and cursed, Mac is plunged into a secret history: an ancient conflict between humans and immortals who have lived concealed among us for thousands of years. What follows is a shocking chain of events with devastating consequences, and now Mac struggles to cope with grief while continuing her mission to acquire and control the Sinsar Dubh — a book of dark, forbidden magic scribed by the mythical Unseelie King, containing the power to create and destroy worlds. In an epic battle between humans and Fae, the hunter becomes the hunted when the Sinsar Dubh turns on Mac and begins mowing a deadly path through those she loves. Who can she turn to? Who can she trust? Who is the woman haunting her dreams? More important, who is Mac and what is the destiny she glimpses in the black and crimson designs of an ancient tarot card? From the luxury of the Lord Master's penthouse to the sordid depths of an Unseelie nightclub, from the erotic bed of her lover to the terrifying bed of the Unseelie King, Mac's journey will force her to face the truth of her exile, and to make a choice that will either save the world… or destroy it..
I can't even begin to express my excitement for this book.
Finally, finally
we will get the answers to all those burning questions that
kept us thinking, guessing and discussing.
By the end we will
finally know
if Mac and Barrons (who is so NOT dead btw)
have a chance and a HEA.
We will also finally
know
Who The Heck is Barrons!
I hate that I can't take two days off to start reading
as soon as it is available.
Gee, I'm so excited it's not even funny anymore.
Happy Wednesday!
aka Mid of Week
aka only three more day till weekend
aka only 6 more days till Shadowfever!!!
The following two tabs change content below.
Related Posts